Across the globe, it's probably fair to say that small-scale farming is not as widespread an activity as it once was. The situation varies widely from country to country, but as a rule, the more economically developed and urbanized a place becomes, the more food production gets to be a matter for big companies, not individuals.
But as supermarkets become ever more ubiquitous, people living in some of the world's most advanced economies are becoming increasingly concerned about how little they know of where their food comes from and how it's produced.
In some countries, supermarkets have begun to print on the labels of fruit and vegetables the names of the farms at which they were grown, or even of the farmers who grew them. But given supermarkets' mastery of branding, it's debatable how much such moves increase consumers' level of trust.
From Edinburgh to Ohio, the rich world has, in the past two decades or so, seen a boom in the number of farmers' markets, offering health-, environment-, and provenance-conscious consumers the chance to deal directly with the producers of their fresh produce. These markets have become the beating heart of the global 'slow food' revival, letting consumers stay in touch with the sources of their produce, and producers make a better return by selling directly, at retail prices.
But there are downsides to farmers' markets. For a start, not everyone lives near one. Then, there's the fact that they're often only open for a few hours each week. Occasionally, they're even exploited by unscrupulous vendors whose produce is not everything it claims to be.
It's with all the above in mind that Home Farmers was set up. Based in Australia but operating globally, it's an online marketplace that aims to combine the convenience and security of e-commerce with all the joys and benefits of buying fresh produce direct from the grower.

The structure of the site is pretty simple. If you're a small-scale home farmer, you can join up for free and post listings detailing what you have to offer, the price you are asking, and where you are located. You can also keep a blog on the site, to keep your customers and potential customers up to date on the progress of your growing activities throughout the year.
If you're someone looking to buy fresh produce, you simply search the site by keyword, then sort the results by category or location. They site doesn't have a payment gateway – instead, you simply contact the seller to arrange the transaction (this helps to ensure that personal relationships are built up between buyer and seller).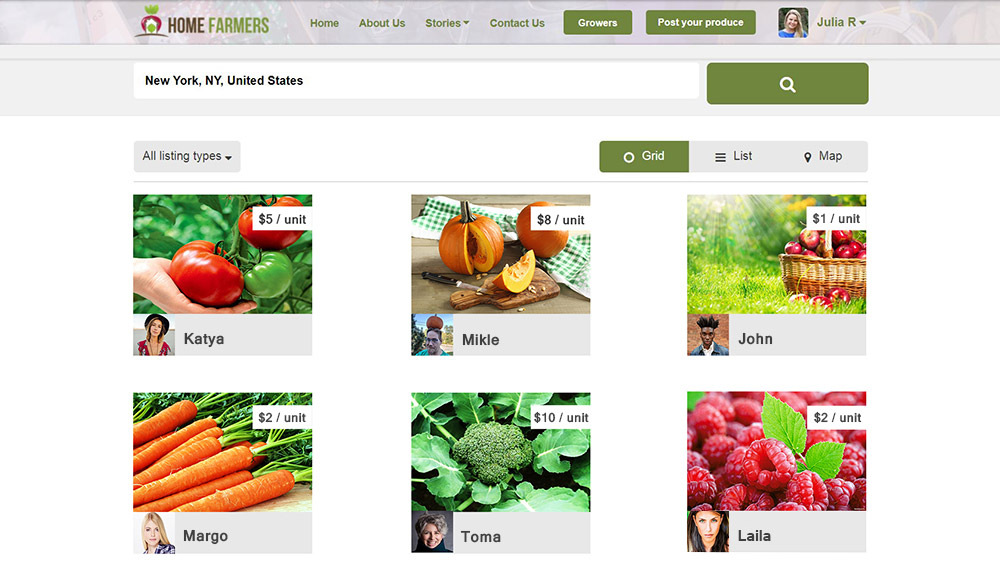 To to help those relationships grow and flourish, the platform offers an easy-to-use messaging service via which buyers and producers can communicate throughout the transaction process.
Once the process is done, buyers can leave reviews and ratings for sellers that will be visible to all via the sellers' listings – helping to ensure that only high-quality, trustworthy vendors operate on the platform.
As with a great many of our marketplace projects, we based Home Farmers on the Sharetribe open source platform, which we modified to suit the nuances of this particular marketplace. These modifications particularly related to the introduction of the blogging and social media elements of Home Farmers – and we also deepened the functionality of the ratings system.
It's still early days for the resurgence in home farming – and even earlier days for Home Farmers. But we think it's an idea that taps into a clear global trend – and one that is hugely positive. For this reason, it has every chance to grow and thrive.