Statista predicts that global e-commerce sales will reach $5.7 trillion by the end of 2022 and will reach $6.3 trillion in 2023. There is a positive trend compared to 2021 ($5.2 trillion). It is noteworthy that almost 70% of sales in the industry are related to marketplaces. Good news for you if you plan to create a website from scratch!
Your product will likely be in demand in today's market and will pay back all your investments. You need to take a responsible approach to the development and consider all the factors that affect the price. Our article is devoted to these and other issues related to the cost of a startup business.
Note: In this article, we will proceed from the fact that the chosen business model does not require specific functionality and that you want to run a typical marketplace solution for transactions between sellers and buyers.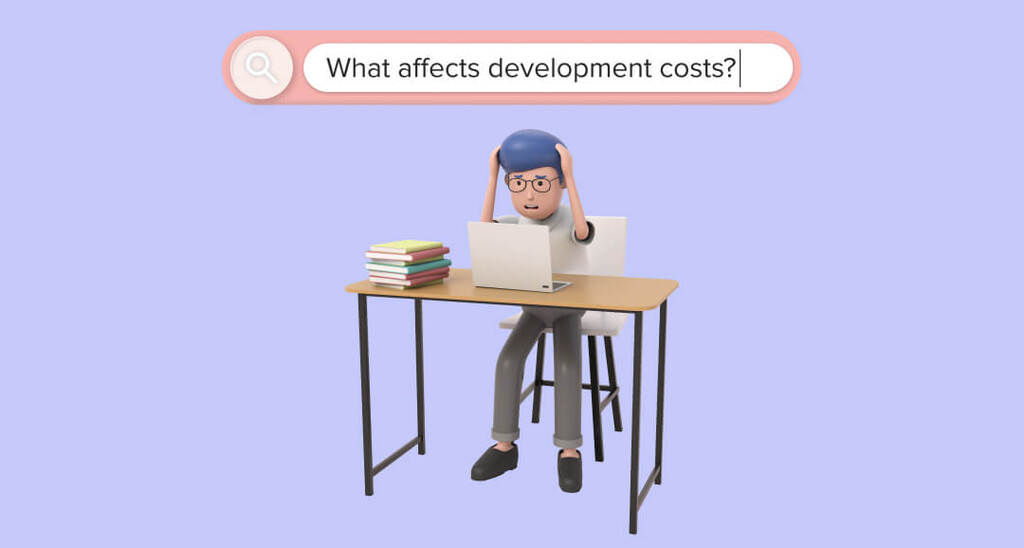 1. What affects development costs?
Marketplace app development cost depends on many factors: the tech stack, the need for advanced functionality, the industry and scale of the project, etc. However, the determining factor for how much money is needed is the development option you choose.
We will consider three basic methods:
SaaS software solution.
Development based on an existing software solution.
Writing code from scratch.
Each method has its advantages and disadvantages, and the advisability of using one or another option is determined solely by your requirements for the final product.
A ready-made marketplace platform allows you to customize the interface. There is no need to create a marketplace from scratch. SaaS software development is the fastest and most budget-friendly way to test the viability of a business idea in practice. Other advantages include continuous improvement and updating of the product, which is part of the price of your purchased subscription.
There are serious disadvantages that negate the benefits. Using an off-the-shelf platform, you lose flexibility and the ability to boost the marketplace. If you plan to scale continuously, this option will limit you. You won't be able to extend the functionality or implement local payment systems. Thus, it will be challenging to implement a strategy to improve the product's competitiveness.
Also, using such a solution for a long time can be unprofitable due to regular subscription fees. Let's look at the fixed price for marketplaces offered by some SaaS platforms.
This is the basic package of the cost of developing a SaaS platform. The subscription will cost even more if you want to extend the features. In the case of Sharetribe Go, it can cost anywhere from $119 to $239, depending on the number of users and feature set.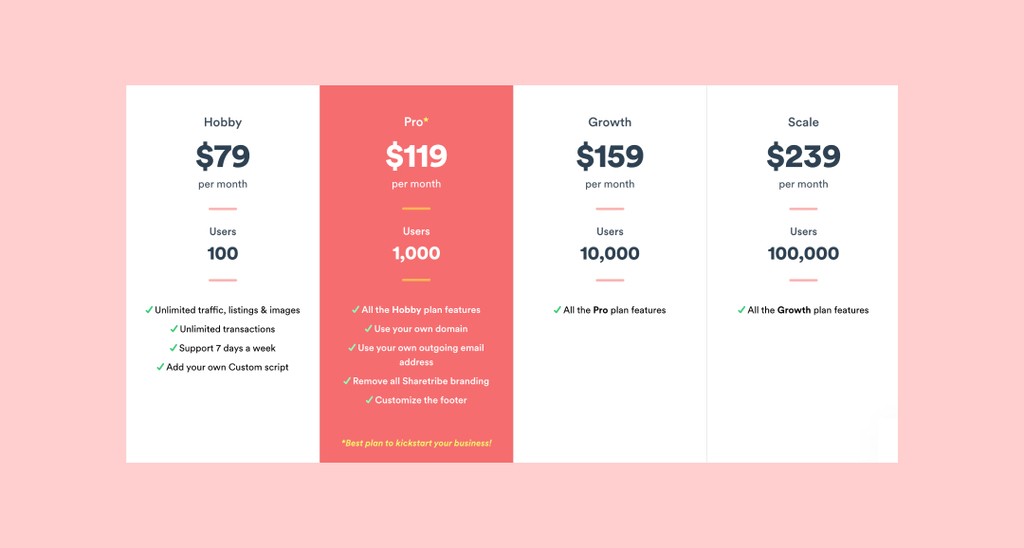 It's easy to calculate how much the marketplace will cost per year to maintain. Remember that as your business grows, you will want to upgrade to an extended version. This will not only increase your expenses but may also create problems with importing data. That's why you should look carefully at the price and features of the platform at the start.
This is where Sharetribe Go compares favorably to other SaaS software. If necessary, you can move it to a more flexible Flex version to get more control over the platform. There is also an OpenSource version that provides space for custom development.
Development based on an existing software solution
An open-source platform such as Sharetribe OpenSource helps reduce the cost of creating an online marketplace and quickly achieve the goal (compared to developing from scratch). The same applies to solutions with access to the code for a fee.
Simultaneously, you get all the features you need. The platform will include most of the valuable options for a marketplace, regardless of the type or business idea. We're talking about creating listings, registration, transactions, etc. You can build your ecosystem in addition to or on top of your existing feature set.
The Sharetribe Opensource is tailored to the current market requirements. Some vendors offer separate modules to turn an online store into a marketplace, but such extensions are usually paid and require additional installation and configuration.
Despite the obvious benefits, off-the-shelf software is not suitable for everyone. Developing from scratch is the right solution if you want to create a unique marketplace with your own business logic.
Writing code from scratch
Development from scratch has unlimited possibilities through the use of modern technologies and languages. The team is interested in creating a startup to meet your requirements, so they focus on every detail. Also, the foundation is laid for further advancement and scaling during the development.
There are also some disadvantages. First, these are high time and financial costs (compared to the partial use of an off-the-shelf platform). In addition, before you can test the viability and usefulness of a feature, you will have to spend resources on its development.
Whatever option you choose, Roobykon Software specialists will bring any idea to life. If necessary, we will recommend the best options for your business and calculate the cost of building a website from scratch based on SaaS or existing products. We also always consider the peculiarities associated with the type of platform.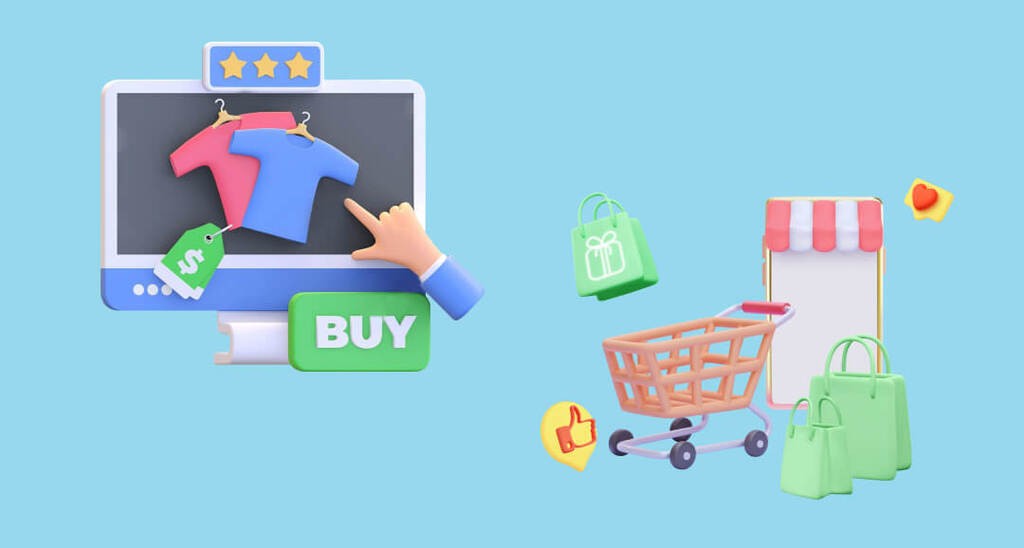 2. Types of marketplaces and their peculiarities
Marketplaces are commonly classified by business model and participants. In the first case, we mean the structure for attracting sellers and buyers. The specifics of the functionality also depend on the chosen model.
Types of the marketplace by business model:
Vertical: have various sources but operate in the same niche and offer a more personalized experience. Some typical representatives include Instacart and Airbnb.
Horizontal: sell goods/services in various industries rather than a single niche to meet the audience's different needs. Amazon and AliExpress are best known, where consumers can access everything from clothing to appliances.
Participants can interact as equals (when both parties are representatives of business/private individuals) or build a business-client hierarchy.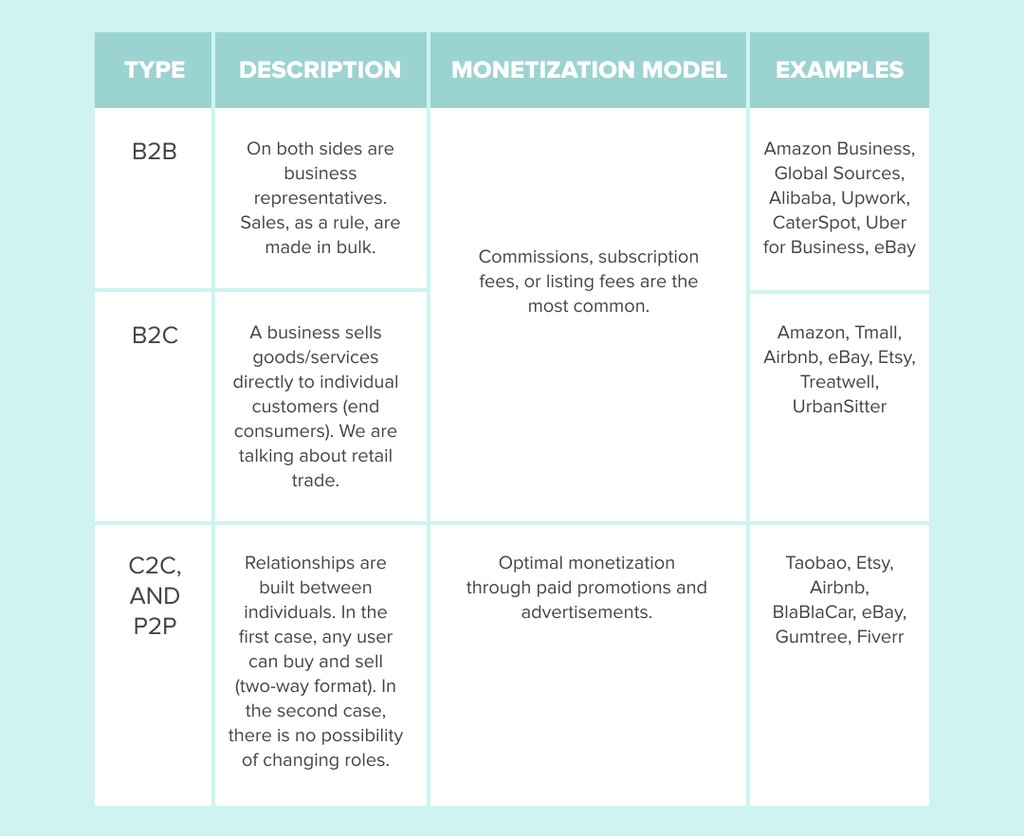 The trade can be associated not only with goods and services but also with information and investments. There are also Online to Offline (e.g., the customer chooses a product online and picks it up in the store) and Online commerce (offline - only delivery of goods).
What is the cost of building a marketplace website in these categories? Let's take the popular platforms as examples and look at the investments in launching each.
What is the cost of the development of well-known marketplaces?
Alibaba is an international wholesale purchasing platform that serves millions of suppliers and buyers. Entrepreneurs (manufacturers, trading companies, resellers) supply their goods to businesses in other countries.
The platform's operation:
Suppliers (exporters) post information about themselves and their assortment on the site.
Buyers (importers) search for goods and suppliers, send requests for proposals, and negotiate for supplies.
Marketplace brings entrepreneurs together but does not itself supply goods.
The platform was created in June 1999 by Jack Ma and 17 partners. According to Bloomberg, he raised $80,000 from 80 investors to launch an online marketplace. The business model worked! In October, he received $25 million in investments from SoftBank and Goldman Sachs. The marketplace quickly gained an audience and holds its high position today.
Amazon is the market leader in international e-commerce platforms and the main competitor of the online auction site eBay. Notably, the site combines traditional trading (the seller is the company itself) and provides space for third-party sellers.
Interestingly, Jeff Bezos created the platform in 1995 as an online bookseller. As for the cost of creating the Amazon store, we know the founder's parents invested $245,573 in the new e-commerce website. In 2000, the company evolved into a marketplace with a wide assortment.
The platform is now known for its B2C capabilities. That said, its model could be described as B2B2C. The point is that it works not only between the business and the consumer but also between business representatives. So if you decide to make a site like Amazon, you get double the benefit.
eBay is the largest online auctioneer in the world. Pierre Omidyar developed the platform in 1995 as AuctionWeb. Initially, the programmer saw it as a hobby. But the site attracted attention and soon became the first online auction site for person-to-person transactions.
The initial cost of launching the business official sources do not provide. In 1997, the company changed its name to eBay and received $6.7 million in financing from Benchmark Capital for development and scaling.
The platform now offers independent buyers and sellers a space for buying and selling. It acts as an intermediary, protecting the rights of participants and controlling how obligations are met.
Notably, each user can act as both a vendor and a buyer. The auction means that you can bargain. Also, you can buy at a fixed price and at the best offer.
Uber is an international service designed to find, call and pay for cabs (or private drivers). It operates everywhere, in all major cities of Europe, Asia, and North and South America. It differs from the standard cab service in that payment is made only by bank transfer.
Remarkably, the possibilities are more comprehensive than passenger transportation by cab and include moving cargo, delivering food, organizing corporate trips, as well as renting scooters and bicycles.
The service was created later than the platforms we reviewed above. In 2009 it was founded by Garrett Camp and Travis Kalanick. Camp and his friends built the prototype. After launching its first ride in 2010, the company received $1.25 million from First Round Capital.
Marketplace website costs are individual. But you have an excellent chance to make sure that the idea will be in demand, which means it will be able to get financing and pay off in the future. You can do that by building an MVP.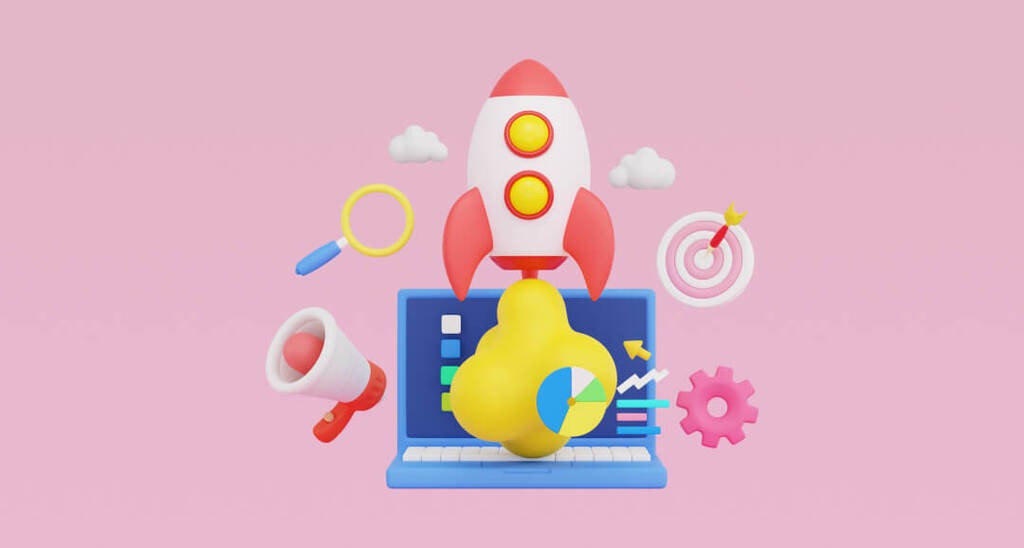 3. MVP is the first step to a successful marketplace launch
When creating a marketplace platform, getting feedback as soon as possible is important. The MVP is a product endowed with a marketplace's critical characteristics. Its launch is necessary to test the idea in practice and collect feedback from early users. Further development of the project and even the search for investors depends on it.
The initial version of the product should not be confused with the Proof of Concept or prototype because they have different goals and audiences:
MVP: create a viable product with minimum effort to test on a group of customers.
PoC: verification of the feasibility of an idea or a key feature executed within the team.
Prototype: verification of the implementation of an idea and the usability of features for a further demonstration to stakeholders.
As a result of the work on the MVP, we get a finished product. The first version is tested on target users and refined based on their feedback. We do this until we get a marketplace that meets all the requirements and trends. You can also use it to get investment for development.
You'll be able to answer the following questions:
Was the niche chosen correctly?
Is the product interesting to the target audience (TA)?
Are the users ready to buy the product?
How well do the main features meet the TA's needs?
This approach allows you to ensure that the business model's hypotheses are correct or vice versa. You save time and money by identifying problems that would arise later, requiring more serious adjustments. You can improve the product and development vector by thoroughly understanding the TA's expectations.
We prefer to start with an MVP because it increases the chances of success. Looking back at the big players in the market, they all started small. Airbnb tried their idea by creating a website on WordPress. The basic version of Etsy was released in 3 months, and now the marketplace does not stop building functionality.
You should understand that the minimum viable product cost depends on the number and complexity of the functions you will implement. Next, let's look at the mandatory functionality for a marketplace.
What features are important for your marketplace?
The functions described below form the basis of the marketplace, allowing all participants to have a successful interaction.
Authorization and security
To access the platform, a site visitor goes through the registration process, then gets the user's role. Registration can be standard or through social networks, which is faster and more convenient. The Roobykon Software team implements all the necessary features, including autofill fields, mandatory data entry control, lists, authorization via social networks, etc. We pay special attention to the security of user data storage.
The main task of a trading platform is to enable users to sell/buy goods/services. A personal account should store personal data, actions performed on the platform and listings. Privacy settings, notifications, etc., are also needed.
A marketplace loses its main idea if it does not have flexible and convenient search and navigation. If a customer cannot find what they are looking for, they are very likely to leave the platform and use the services of a competitor. We work through all aspects of UX, including search and filters, to make the product more competitive.
A seller can create, post information about a product or service, and manage the listing after publication (complete, edit, view statistics, etc.). Users can search for posted offers, go to a private listing page, view information, and make a reservation/purchase process.
To enable users to book products or services and sellers to collect information about orders, we implement a booking function. Buyers can view the listing, specify reservation data (date, time, etc.), make a request, or make an instant reservation. Sellers can view, accept, edit, or reject orders.
The MVP marketplace must contain at least one payment method. You can allow payment by credit card or through a PayPal digital wallet, connect to an international payment system or a local provider. It's important to choose reliable payment processing services trusted by millions of people around the world, such as Stripe. Users can enter, save and view their payment details, manage payment methods, make transactions to pay for goods/services, and withdraw funds.
Communication within the marketplace is necessary to build user interaction and increase the likelihood of making a reservation/purchase. Instant messaging allows you to contact the seller before the transaction to clarify points of interest and maintain communication afterward.
Feedback and rating system
You need ratings and rankings to build trusted commercial relationships and increase TA loyalty. The platform can keep reviews up to date and trustworthy, generate a rating based on all marks and display the data in the profile/listing. It's a chance for sellers to get a customer's opinion and for the buyer to get to know the seller better and share their feedback.
A single dashboard contains the tools to manage key sales processes. Using them, the administrator can track orders, deliveries, and payments, view information about customers and ordered products, and manage the assortment. There is also access to marketing tools and analytics, which allows you to keep abreast of progress.
The home page is the face of the site. The user forms their opinion by it and decides if they should continue to get to know the company. Therefore, the home page should explain simply, clearly, and informatively what the marketplace is, what products/services it offers users, and what tasks/problems it solves.
Users should be able to quickly contact marketplace representatives (consultants, support services) with any questions. For this purpose, you can specify an e-mail for visitors to send their questions and opinions. Ideally, you should create a separate page on the site and gather all the contacts for communication.
Additional e-commerce marketplace features
To enable sellers to publish ads and visitors to interact with them conveniently, you need to implement additional functionality.
Generate and send notifications
Notifications are an important component of any site and allow users to stay up to date on events related to their account, as well as to the operation of the marketplace. It's equally essential to enable buyers and sellers to manage notifications, for example, by selecting the ones they're interested in and turning off the ones they don't need.
This is an important feature that has a positive impact on UX. Allowing users to save products to their favorites will increase the chances of a purchase. Since customers often share their wish lists with family and friends, you will attract even more free traffic to your marketplace.
We are talking about relevant offers tailored to each user's interests. This involves ML technologies that analyze the site visitor's actions, such as past purchase history, and "draw conclusions" about their current needs. The list of recommendations increases incremental and cross-selling.
If your plans include scaling up and entering new markets, it's essential to provide multicurrency. Users worldwide can make transactions in national currencies to pay for purchases. This will considerably expand your audience and make the marketplace known globally.
Another essential feature for those who want to take a prominent position in the international market in the future. Allow users to switch between languages with one click. The site should flexibly adapt to the visitor depending on their location. This an excellent opportunity to push the limits of business and make the site available to more people.
Shipping system integration
This feature is essential for convenient order management and control of product shipments. The integration gives you access to different delivery channels and allows you to track the entire path an item takes until it reaches the recipient. This improves order accuracy and reduces the number of delivery errors.
Without these features, providing the necessary level of convenience and security for users and maintaining the site's competitiveness in the fast-growing e-commerce market is difficult. We will proceed from this functionality to understand what budget you need to launch a two-sided marketplace.
To implement the functionality and solve other tasks of developing a marketplace software solution, you need access to modern technologies.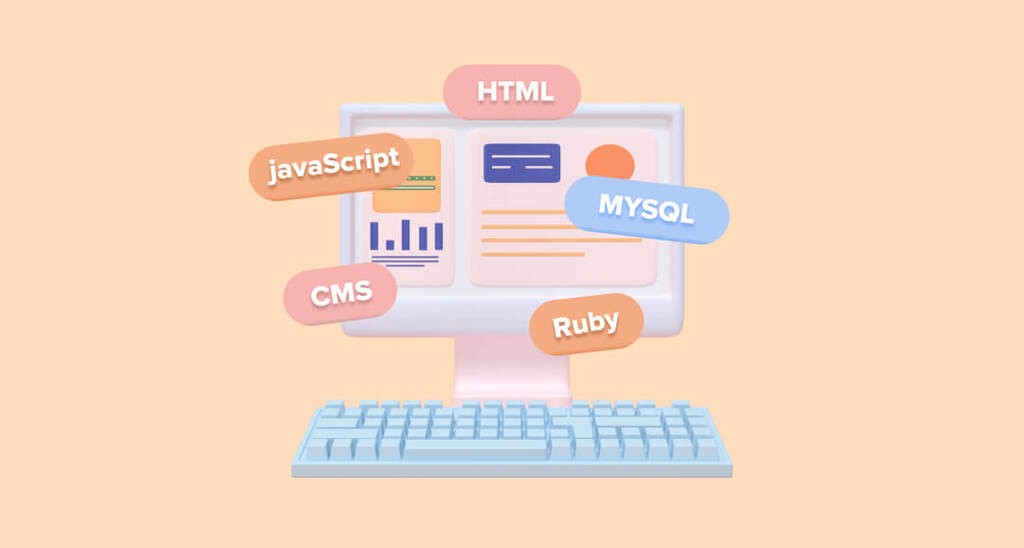 4. About Technologies
The technology stack for a marketplace website consists of the following:
Back-end: building product logic and organizing data storage. Programming languages (e.g., JavaScript, PHP, Python, C++, Ruby), frameworks (Ruby on Rails, Node.js), and databases (MySQL, Redis, PostgreSQL) are used for this.
Front-end: the creation of a visual part for interaction with users. Technologies: HTML, CSS, JavaScript, TypeScript, jQuery, React, Vue libraries, Angular.JS

,

 Backbone.js frameworks, etc.
Do you want to know what technologies famous companies choose to use? Amazon runs on Java, C++, and Angular.JS, Airbnb: React.js and Ruby on Rails, and Etsy: PHP and Backbone.js.
The Roobykon Software team is constantly improving the tech stack to provide customers with an advanced development experience that meets their product goals and needs. The technologies can vary depending on the tasks, as the specialists individually select solutions for the project.
Would you like to know what would help your idea come to life? Contact us in any convenient way.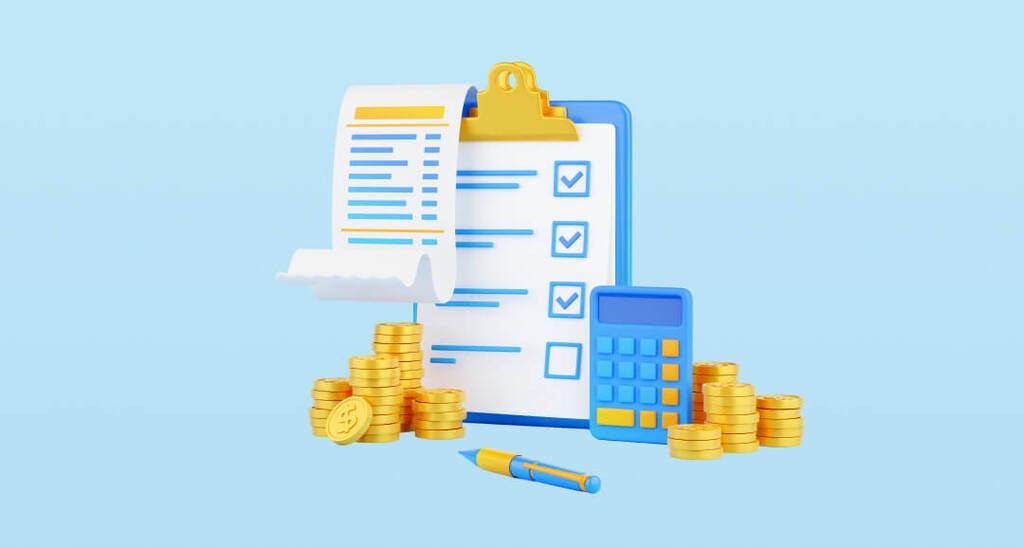 5. How to calculate the cost of developing marketplace software?
We did some research to get an idea of marketplace pricing software. So, according to Upwork, the average hourly rate for a developer is $15-30. The amount may be higher depending on the direction. For example, mobile and web developers get $30-120, and DevOps engineers get $60-120.
To calculate the cost of building an online marketplace, you need to determine the development time spent on the project (within each feature). Let's assume that creating the platform's basic functionality takes 1,000 hours. If you take the average rate of $30 as a basis, the total amount will be $30,000.
Also, remember that rates vary depending on the developer's location. Thus, in North America, the rate ranges from $80 to $100, and if we're talking about the Senior level - up to $160. In Eastern Europe, the amount rarely exceeds $40-60, including for Seniors. One of the popular destinations is Ukraine, which is in 4th place for IT outsourcing.
Following this logic, cooperation with an Eastern European developer will be at least twice cheaper than with an American one. Let's look at the calculation of online marketplace development cost (MVP) in the example of our company.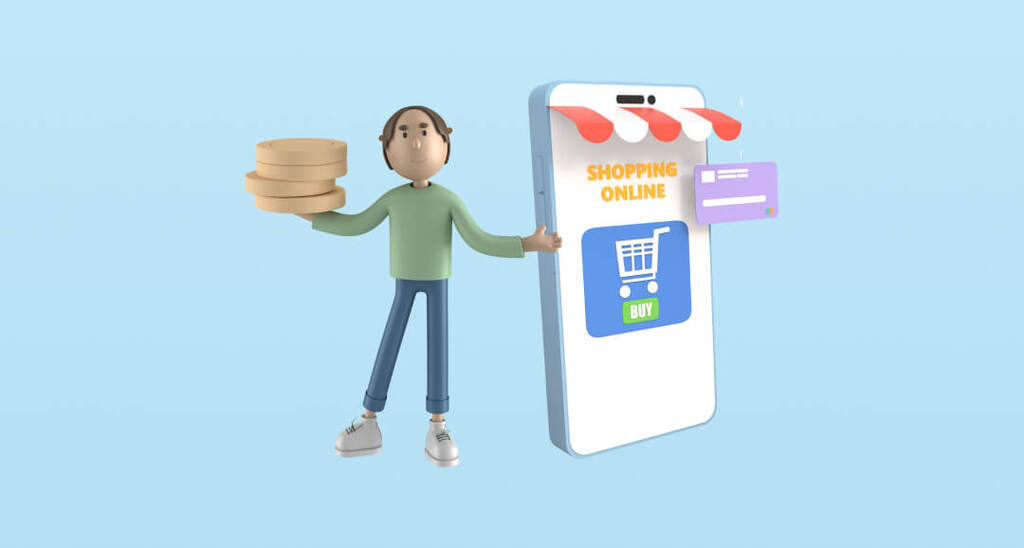 6. How much does It cost to start up an online marketplace?
Our advice for startup businesses is to look at two options for project implementation: from scratch and based on Sharetribe. This allows you to adapt the project to any needs and financial capabilities fully. Next, let's see how it affects the project budget.
To perform a marketplace price comparison, we have indicated the approximate time required to develop the basic features of the marketplace and the cost (according to Upwork's rates).
MVP development cost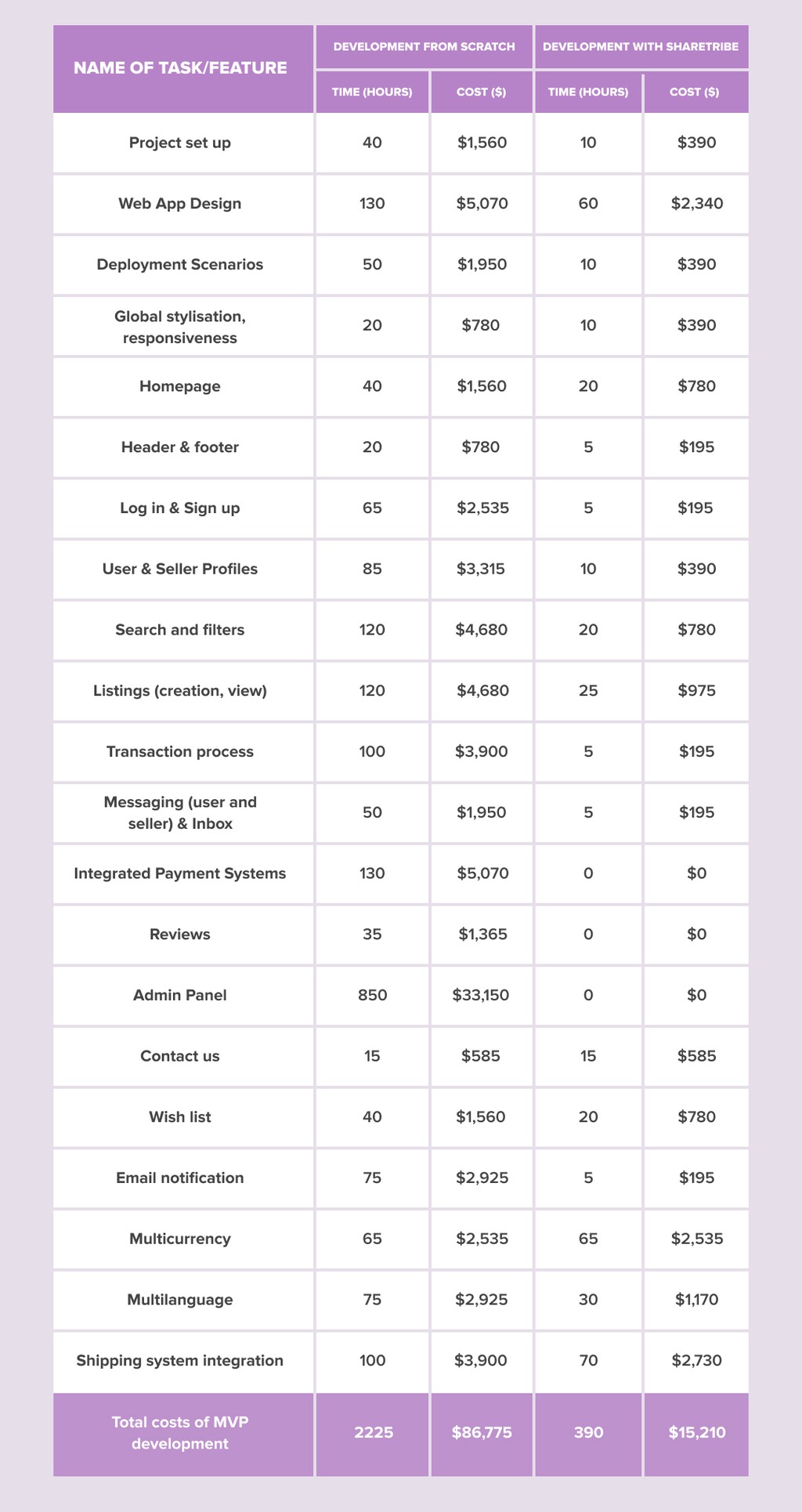 After analyzing how much does it cost to build an MVP from scratch, we got $28,800 for a project duration of 960 hours. If we use Sharetribe features, the amount will be $XXXXX. The choice depends solely on your goals and capabilities.
When searching for a partner, remember that the hiring cost depends on the company's location and the timing, which, in turn, depends on the volume of tasks and the number of functions. Other factors include the specialists' experience, the team's size, and the technology used.
Want to get a marketplace estimate and plan your budget? Contact us, and we'll calculate an actual price for your purposes!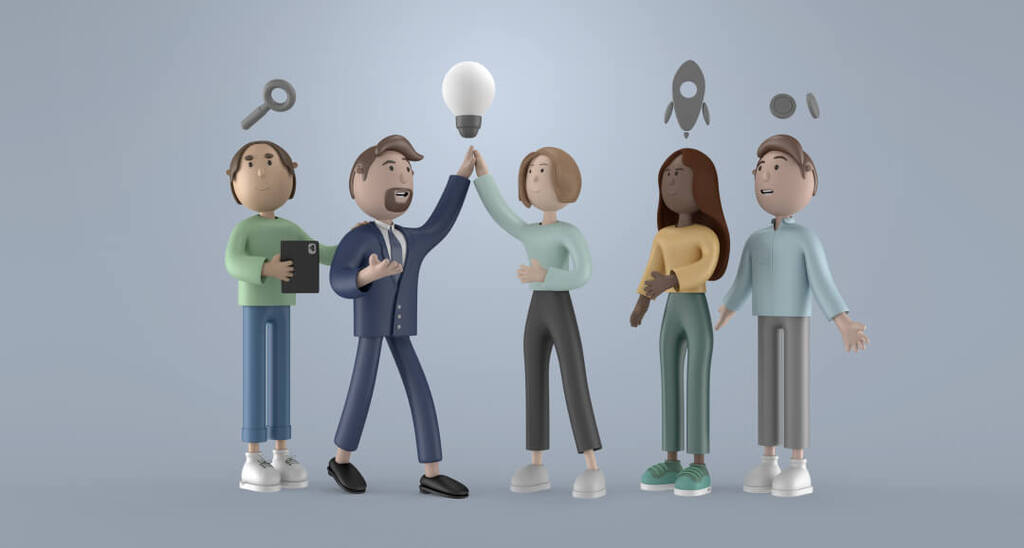 7. How To Choose a Marketplace Development Company?
Price is not the only thing you should consider when choosing a future partner. We have collected some of the most important nuances:
The company's expertise in your industry, confirmed by an extensive portfolio on the official website.
Positive feedback from clients posted on reputable platforms (Goodfirms, Clutch, G2).
The use of Agile methodology ensures flexibility, speed, and cost-effectiveness and reduces development risks.
The right tech stack: robust, scalable, cost-effective, and secure (e.g., Ruby on Rails, React, Vue, Angular).
Technical support and consulting after the product goes to market.
Also, the company must have an individual approach to projects, no matter what development method you choose: from scratch, based on SaaS, or using off-the-shelf software.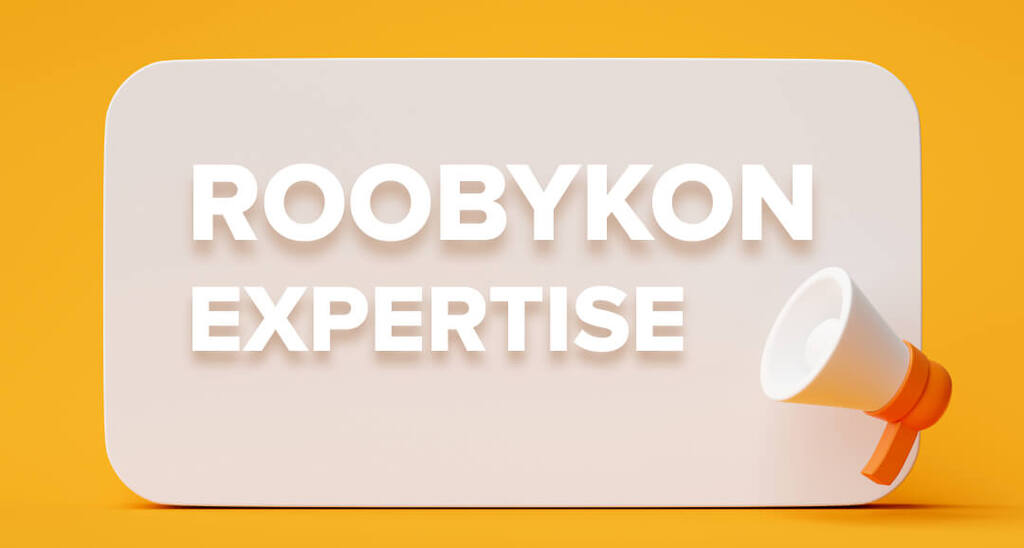 8. Roobykon Expertise
Roobykon has been working in the international IT market for XX years. Our priority is marketplace development from scratch based on Ruby/Ruby on Rails, JS (React.JS, Node, etc.), Typescript, Elixir, and PHP. Another option is Sharetribe development (Flex, OpenSource). It all depends on your goals and needs.
Our professional team comprises:
Frontend Developers
Backend Developers
Business Analysts
QA Engineers
SEO Specialists
Technical Writers
Content Managers
Project Managers
We implement projects of any complexity from different competitive areas (Shopping, Delivery, Real Estate, Travel, Manufacturing, Retail, etc.) and business segments (B2B, B2C, C2C, P2P, SaaS, PaaS). If necessary, we implement innovative technologies to improve product functionality: Big Data, AI and ML, and Cloud.
We have researched the price of a marketplace and made approximate calculations based on timelines. Looking to save time and money when creating a website? We can help you choose the best solution and make your idea a reality!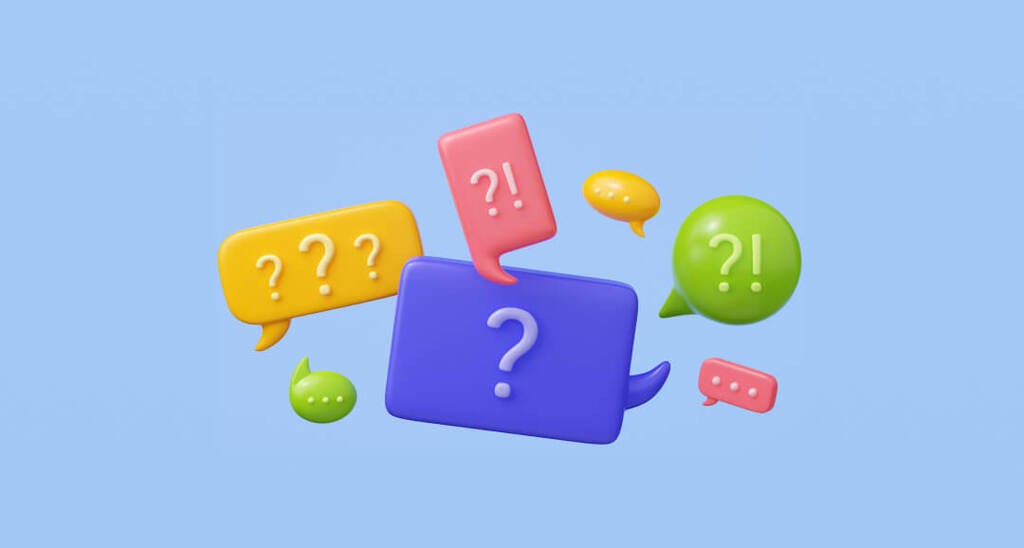 FAQ
How much does it cost to build a marketplace website?
If we assume an average hourly rate of $30, then the cost of development, which lasts, e.g., 1,000 hours, will be $30,000. When calculating, you need to consider the number and complexity of functions.
How much does it cost to develop a marketplace app?
According to Upwork, the hourly rate for a mobile developer ranges from $30 to $120. Based on 1,000 hours, the project would cost $30,000 to $120,000.
How long does it take to create a marketplace?
It all depends on the project's specifics and the team's size. It takes roughly 1,000 hours to create a product with key functionality.
Why do you need to build a marketplace?
This is a promising area, the marketplace accounts for almost 70% of e-commerce sales. This is an excellent opportunity to enter the international market, attract many suppliers, and expand the client base. Open vast opportunities for business development and scaling!