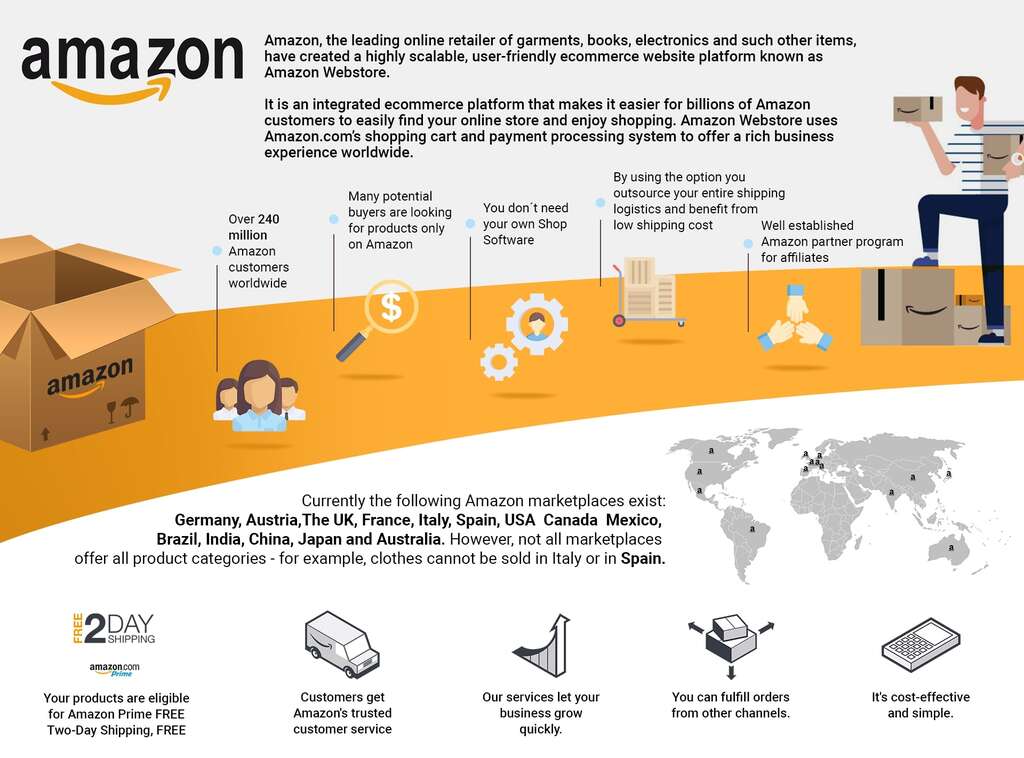 Small business holders and self-employed commerce players have been successfully working with the biggest trading platform – Amazon, as well as with other websites like amazon, for years now. Founded over 20 years ago in 1994, this e-commerce multi-vendor store continues to evolve up until today and provides customers with new buying/selling capabilities. Statistics tell that Amazon's clean profit comprises $2.4 billion.
Each day, thousands of web users buy, sell, offer, and auction online through it. That's why similar solutions (websites, apps) can be very effective profit earners.
If you're thinking to make a website like Amazon to develop your business or to make an extension to the existing one, you should take a look at our guide. It describes which moments to pay special attention in the process
How is the Amazon platform built?
341 state employees are keeping the resource up and running. Each worker makes their system management contribution. Over three billion users visit the site monthly, according to Similarweb. The company sends up to 4 million deliveries to various points of the world. In order to keep up with such a workload, the organization has switched to Linux and now uses special dedicated servers.
This multi-vendor store based on the Oracle 9i has also built the biggest data storage on the planet. Interesting thing is that more than 40% of memory is dedicated to user clicks data.
Amazon constantly collects statistics on each TA user to objectively assess their behavioral factors. Due to such an analysis, the company understands customer needs better and is able to offer most profitable options.
Building a large infrastructure, you should keep in mind mobility. Smartphone apps enable remote access to the marketplace and expand the target audience.
In order to create a solution like amazon, you need to implement the following aspects step by step.
Creating a structure
The first step is the development of solution architecture. The basic structure must be flexible and able to provide stable performance, as well as:
Be scalable;
Highly performing;
Feature sufficient security.
Each aspect is an enabler of the transactional possibilities. All personal user data must be encrypted; scripts must be protected from hacks and XSS attacks.
The faster your website performs the more income you'll get. Long waits usually make customers leave.
If you employ reliable technology, you can create a new module and add the necessary features to existing software.
Web site design
Accessible and efficient 'face' attracts new potential customers. A user must be able to easily browse through large volumes of info and effortlessly find the needed product among thousands of items.
Latest web site design trends strongly emphasize the importance of UX/UI.
Development
Select a server and provider
Only a well tried and tested hosting can provide stable operation. You can use VPS or AWS. But the most efficient thing is the long-term rental of logical machines for your e-marketplace.
Choice of technology
We'd recommend using Linux as an OS. It expands the stack of technologies that can be used for development with PHP/Python/Perl, MySQL, LAMP, Apache. The chosen technology must endure stress loads. Also, don't forget about encryption – the database must be resistant to hacker attacks.
In particular, we specialize in RoR (Ruby on Rails), PHP and a number of other programming languages. We also apply Laravel framework, Yii, Zend, and others to enhance security.
With the help of PHP, Laravel, Ruby on Rails, and MySQL, we're able to build large, complex, stress load-resistant projects.
Application of CMS and platform
Should you use Sharetribe, Opencart Multivendor, CS-Cart, Cocorico or other similar soft? Well, CMS is quite an efficient tech for a large project construction. They're very flexible and feature a set of solutions for particular user issues. And, they mustn't be written from scratch, only adapted. However, any CMS has certain weak points, so take security even more seriously in this aspect.
Testing
Only the expert Software Testing Specialists can help timely detect errors in, e.g. financial module, and thus prevent felt expenses. Always take software testing with full integrity.
Promotion and launch
Try to analyze promotion options for your marketplace initially, before launch. During the development stage, an internal technical optimization can be realized to simplify and accelerate the traffic attraction in future. Consider search advertising, SEO optimization and don't forget about the relevancy of content.
Short algorithm of actions
Composition of terms of reference based on client requirements. The development of any project starts with planning. A client either describes their own image of a future site or a Business Analyst is involved.
Business analysis. The analytical process can take 20 or 200 hours. The functionality volume is crucial here – the smaller it is, the faster particular business needs and issues will be defined.
Project management. Project Manager kick starts the project implementation process by: setting up a schedule, organizing a team, confirming activities plan, providing feedback between experts and a client, and assuring product quality. Also, Project Manager responsibilities include:
Project documentation;
Evaluation of possible risks;
Terms confirmation;
Project planning together with developers;
Definition of required resources;
Prioritization of tasks.
4. Project evaluation. An all-around assessment of a result, which is a final point in an algorithm for creating a marketplace.
How much will it cost to build a website like Amazon?
There are two general payment methods for online ordering sites building or otherwise: Time and Material and Fixed Price. The Fixed Price option is optimal when you have utterly precise terms of reference and the budget can be approved before the development commences. But Time and Materials is usually more preferable – hourly rates for experts based on the work done, you won't pay money for any unfinished work.
The end price depends on the technology stack a future platform is to feature. E.g. we work with: Ruby, Ruby on Rails (RoR), PHP, Python, and Java. Each piece of software affects how much it will cost to build a website like amazon.
How to build sites like Amazon but cheaper?
You can create sites like amazon but cheaper. The light versions, if you wish. One way to do that is by using one of the readymade solutions like Sharetribe, Opencart Multivendor, Cocorico, or others. These provide such features for users as:
Favorite tabs;
Single-click ordering;
Comment & review sections;
Feedback form;
Order status notifications;
Extended filtering for searching through catalog;
Delivery costs calculation;
Shopping cart, & many others.
On the administrative end, there are:
Reviews, comments, and messages moderation;
Content editing & addition;
Products management;
User actions analysis;
Multilanguage support;
Different levels of access for vendors;
Vendor products management;
Product duplicates, & much more.
The capabilities are plenty and you can enrich your project with new customizations later on. It would still be profitable as nothing has to be written from scratch or rewritten much. Only adaptation is needed.
6 reasons to order a marketplace development from us
It's as simple yet as efficient as this:
We work with projects of any complexity, with any number of features;
We personally compose all technical documentation;
We conduct full project testing;
We suggest hourly rates;
We are always ready to implement marketplaces like amazon or alternatives to amazon marketplace based on your budget;
We always meet the set deadlines – be it working with ordering sites or otherwise.
Check out our pricing by the link and let's make eCommerce history together!