To make a prosperous online marketplace platform, you should discover those business models that will be profitable and uncomplicated to manage. Comparing service suppliers and selecting the right one seems challenging: it is essential to determine how effective the concept of utilizing existing templates or open-source marketplace software is.
The best decisions let you run the selling platforms quickly, so you kick off the learning process of your audience. Nevertheless, the mistaken ones may set you back years before understanding it doesn't correspond to your intention. You will get to know what is the best option in this guide.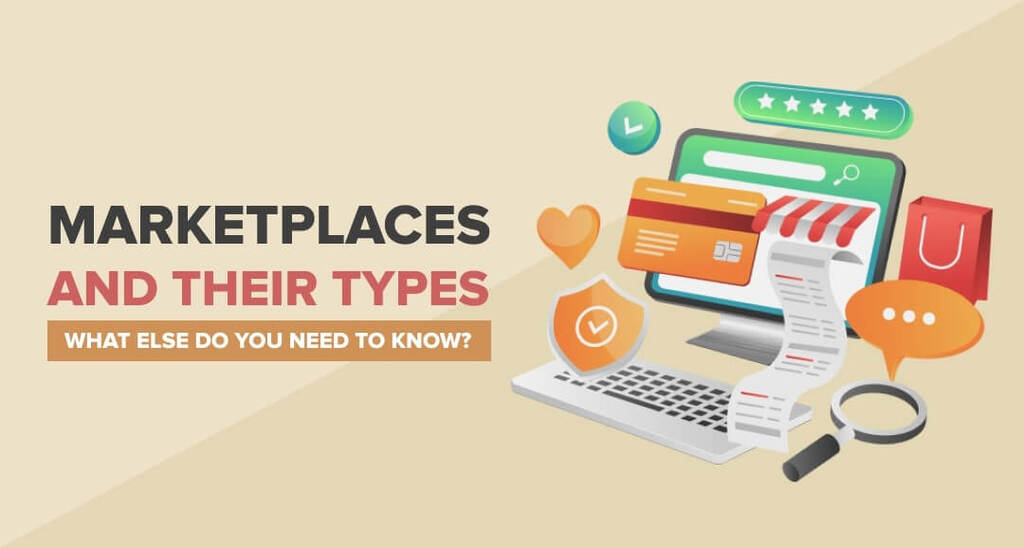 Marketplaces and their types - what else do you need to know?
The online startup is not a new area of the IT market that has managed to find new life after two years of crisis and pandemic quarantine. Now, it is a trend that most entrepreneurs strive for, but to create a prosperous case, they need to discover a perfect model suitable for today's market conditions. So, let's have a detailed look into the three main categories of marketplaces based on the business models.

B2C
The B2C marketplace solution is based on enterprise and client interaction. An advantage of such sites is a wide assortment of items at a single destination. In addition, this model has a global reach for the end-users; even small business owners can merchandise to clients on another edge of the world. A famous B2C Amazon and Facebook platforms allow any entrepreneur to sell anything they produce (although their primary trading model is C2C). The main challenges lie in limited product exposure and great competition.

C2C
This platform allows customers to trade with each other in a digital environment. It also believes that all participants are equal, hence the name client-to-client. For example, eBay, Etsy, and AliExpress define their activities as C2C and merchandise items through a classified or auction system. But this model may be unsuccessful because the entrepreneur may not constantly keep track of quality control and compensation guarantees.

B2B
B2B marketplace solution is operated by a 3rd party, allowing wholesalers and producers to acquire and sell on the site. Such unexpected illustrations are HubSpot Ecosystem and Salesforce AppExchange - it doesn't matter what these businesses offer; the interaction with peers matters. Common problems of such sites are:
The duration of the sales cycle.
Problematic generation of targeted traffic.
The increased cost of MQL.
There is another mini-taxonomy of marketplaces by type. Let's consider it deeply.
Generalist: here, clients can find everything they come up with. Alibaba, Amazon, and eBay are three of the biggest trading platforms.
Vertical: concentrated on a certain niche. They usually provide a broad assortment and unique items in a particular sphere while maintaining expert salespeople. StockX is oriented toward authentic sneakers, and its audience has a more sophisticated taste, due to which the platform has gained confidence and has become a consistently good supplier.
Horizontal: they are repulsed by the fact that all the products here are second-hand. Poshmark has established itself on the market as a used clothing service.
Homogeneous: they erase the difference between supply and provider, thereby decreasing the cognitive load on visitors. The partner's option here is optimized - the outcome is significant, while the associated factors do not matter. Just look at Uber and Lyft: they show a list of cars that can drive you.
Heterogeneous: present a unique listing that makes an additional cognitive load. Such sites require the user to evaluate variants to find the perfect one. On Airbnb, the visitor has to look through the lists of accommodations found, assess each item, and then select the most suitable one.
Root density: each local market exists independently of the others. If this is in New York, DoorDash will be well-known there. But it won't help their popularity because people in Arizona won't need them.
Global: distinguished by the various positions of the salesman and the client. Platforms offer an enlarged assortment of products. Upwork falls under this rank, as there is a large offer of remote work from suppliers worldwide today.
Hybrid: sellers are intermediaries between 3rd parties and clients. Amazon and Walmart use this e-commerce marketplace solution, which allows them to supply various products and more customer options.
There is also a division of business models based on the type of their monetization:
Commissions. It involves certain expenses for completing each transaction. This is profitable because each activity on the site is paid up, allowing for earning MVP. Of course, everything here depends on the sales - the more they are, the higher their income. Airbnb, Esty, Uber, and Upwork utilize such a principle.
Subscriptions. Regular customers bring you revenue that frees you from advertising costs. Home Exchange has this philosophy of cooperation, so they get good money.
Listing fees. When listings have high value and unreliable transactions, this type of business will be just right for you. Visitors of such marketplaces may sell absolutely everything, even used items. OLX and Click are examples of such platforms.
Lead generation fees. The company earns its revenue by charging vendors for customer contact. This is how various service search sites work, such as Thumbtack, Porch, and Pro Referral.
Freemium services. The introductory rate with concrete features is complimentary, while the premium subscription gives visitors several advantages. Etsy, in particular, works on this principle, providing free services for those who have large transactions and have been regular clients for many years.
Nevertheless, despite the above options, controlling all transactions made and charging fees is the basis of the efficiency of each model. Outstanding results will only be achieved by adapting each specific aspect to the real technological and trade needs.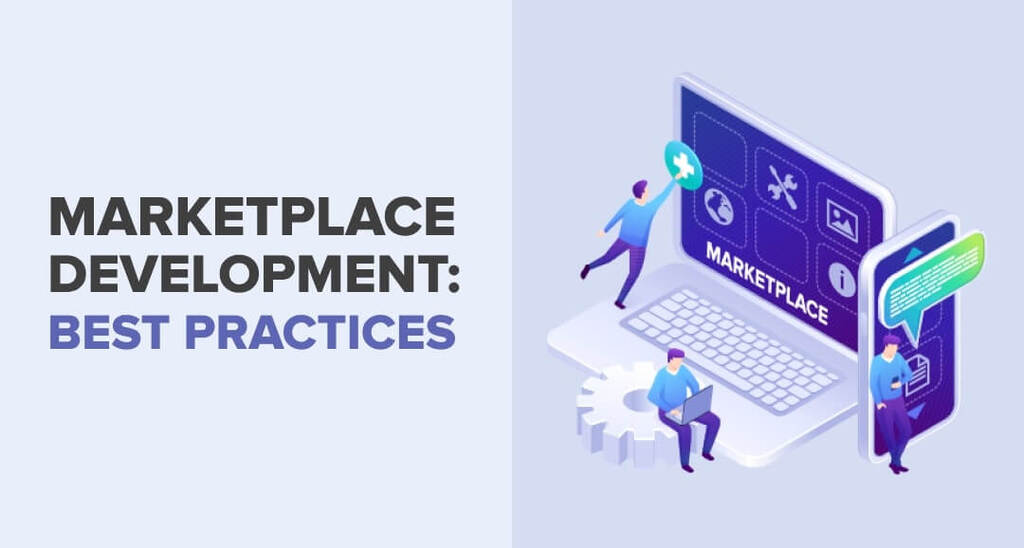 Marketplace development: best practices
Creating a working platform with all the necessary functions is quite realistic for someone who is not an expert in the technical field. Many think they should code to make a marketplace, but the idea is not viable frequently. The burden of promotion, development, conception and other things would fall on the shoulders of the entrepreneur, which in one way or another would lead to his or her burnout. There are many alternatives to developing a site from scratch. So, you should decide on the concept of the MVP vision (e.g., if it concerns niche, then you should reconsider your attitude toward the reverse market or opt for the traditional).

SaaS
Software as a service (SaaS) implies the cloud-based method of providing software to make it accessible to end-users. They can log into and utilize a SaaS app from any compatible device in the web space. According to studies, in 2024, the SaaS products market will reach $200 billion. The forecasted growth of such solutions is not unreasonable because their most significant advantage is a quick startup. Even if it's a multivendor marketplace solution - it can still be up and running in a week, with a great UX and minimal investment.
When considering the representation of such a marketplace, you may expect that your development team will offer you several options - utilizing a universal no-code constructor with plugins if you are counting on a small budget. But this aspect implies a straightforward UI/ UX and thoughtless logic of the site architecture. Thus, you will have to spend extra for the desired range of operations, and the price difference compared to more expensive variants comes to naught.
In the process of thinking through the concept of business is essential not to miss the point of relevance: you can spend ten years studying the niche and run the brand when it is too late. That is why we advise you to focus on developing a model of a minimally viable product, which usually takes a little time, money, and human resources. For the initial building of the marketplace, using Sharetribe Go functionality is an ideal option. Firstly, you get the opportunity to present your vision of the product with the basic functionality best suited to your needs. Secondly, you will no longer need an outsourced team to develop your marketplace. You can make all the necessary adjustments and administer the work processes.
Interestingly, you do not have to worry about integrating payment systems - Paypal and Stripe are available in the Go package. Also, one more essential feature of this software is its hosting and fast support. The Sharetribe Go software is installed on its servers and the Sharetribe team takes full responsibility for the technical and administrative tasks (installation, maintenance, updates, security, backups, etc.). This lets your focus on growing your marketplace business.
But when it comes to customization, the system usually kicks back. You won't be able to add anything new that's out of the box when it comes to design or site performance optimization, for example. However, applying for an MVP and testing is a nice idea, especially if it can fulfill most of your aspirations and goals. After launching a Go-based MVP, most entrepreneurs have to change their development strategies and technical solutions fundamentally. And here's why.
Go software has an extensive set of basic functions, enough for a simple site, which can not accommodate all the powerful sales potential. Moreover, on the market, such products are suitable only as a test version, which can not always solve the user's problem and requires a more in-depth approach to development. Also, tools without code don't scale well - if you want to diversify your biz at some point, you'll have to change everything. This triggers switching to Flex, allowing you to customize the interface and integrate third-party applications. Therefore, if you've explored the idea and know which design and feature set best suits your future audience, you should start with Flex. After all, by customizing and implementing the Go experience, you'll waste precious time that could be used more profitably with Flex. Such a SaaS soft is battle-tested: experienced companies typically provide good support for their products - constantly testing them for bugs and refining the range of operations. So the released MVP will prosper in the market and survive in a highly competitive environment.
The main disadvantage is the high workload of teams working on SaaS software. The fact is that such companies usually work with many customers so they will have definite restrictions. You might be unable to run with all the operations you had in mind, but your product will surely become noticeable in a highly competitive market and gather fans even in the early days. Moreover, among the significant Sharetribe marketplace examples, 90-95% were developed lower in price and more performed than those created from scratch.
The Flex is a tool that lets you make your perfect front-end interface, integrate the best marketplace software, and create unique functions. Moreover, you don't have to worry about updates, backup, and safety - as the site broadens and the amount of active users increases, the soft contractor will support your product.
Certainly, such a SaaS needs great skills. Furthermore, vendor documentation will probably significantly impact how effectively the site is launched. In addition, much depends on your finances - be prepared because the typical development cost can vary greatly and range from $5 to $10,000.

An open-source-based solution
Websites like Airbnb or Fiverr are some of the best open-source marketplace examples. They were created quickly, and their cost was lower priced than those made from scratch. Each of these sites, in the beginning, had a basic functionality that has expanded over time. The creation of lists, and the ability to process orders, conduct transactions, and exchange information with other users were initially involved in the original package. Then the interface was configured, and additional functionality was added. But even though the soft is open source, be prepared for the expenses of hosting, upgrades, maintenance, etc.
Of course, the time of launching such a platform will depend on how skilled professionals you work with. Open-source involves a great amount of manual manipulation and is far from simple solutions. So, it can take 8 weeks and be expensive. But it's worth it - as a result, you get the fastest and easiest way to configure the soft.
Quality solutions always require costs - yes, the open-source marketplace will need to be maintained, expanded, and updated. After all, when your audience grows, you will have to consider resuming work on the backend and frontend. Then from the looks of it, you will have to employ a full-time development team.

Custom marketplace development
To create a profitable website, start with the MVP. It will save you more time and finances and attract customers from the first days. In addition, you will surely understand if you should go further and invest more or if it is better to finish development and switch to other niches. This unhurried but promising beginning will allow you to define primary and extra functionality - to do so, stick to the business logic of each process: "As a user, I want to have an ability to... etc." It will give you confidence and clarity of thoughts.
Be inspired by Amazon - this world-famous giant started as an MVP whose objective was to merchandise literature. Nevertheless, the site was simple and unpretentious, but it soon began to bring in millions and billions in profits. It was eventually evolving from a small business into a significant marketplace solution.
Your MVP's range of operations should be helpful to the client to become a case for their problem. So, you must implement those opportunities that will cover your needs as an entrepreneur and audience, creating demand. But, then, you have to think about the niche. For instance, if it's about a reverse marketplace with a completely different concept, you'll probably need to include additional features (such as user interaction).
A build-measure-learn (BML) approach of Lean Startup helps develop a custom marketplace more efficiently. After creating a product, you start researching it and gathering data. Then, make the operation more flexible by constantly making edits and updates. You are essentially making a cyclical process that will eventually lead to something perfect. In today's world, there's no limit to perfection, so you're more likely to participate in an endless production cycle.
Developers typically work with several tools, including server-side and client-side tools. For example, Roobykon works with Ruby and Ruby on Rails to control server-side direction. As for client tools, Ruby on Rails, React, and Vue.js have also proven themselves in practice.
To make a site, you should assess the availability of three options: hiring employees to outsource, creating your team, or software consultancy focusing on unique marketplace development. Each of these might correspond to your biz. Generally, the distinctions between the team's types and the cooperation with them lie in the area of price and qualifications. Thus, we advise choosing a software company specializing in MVP and marketplace development. They can make a unique UX based on long attempts to make better-released items and market research.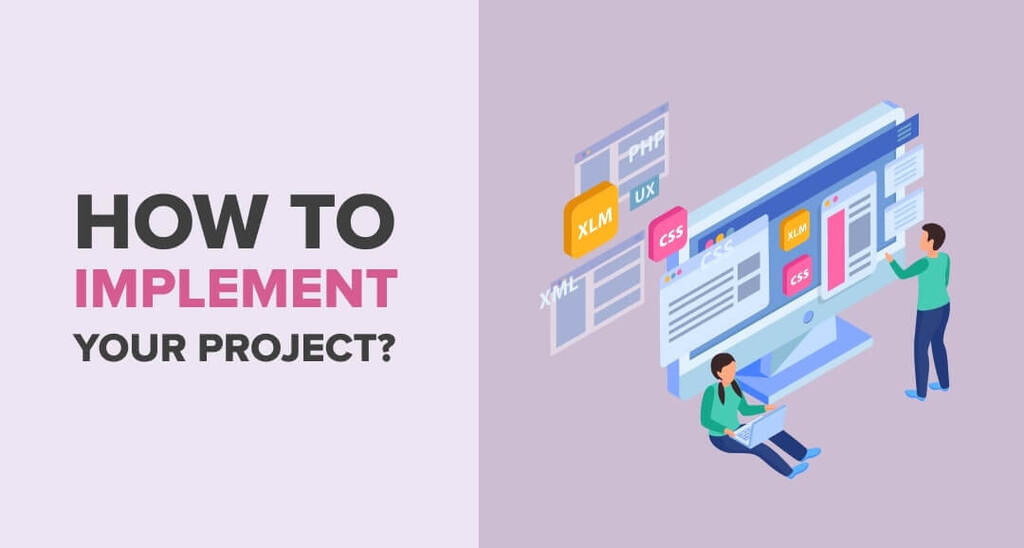 How to implement your project?
A good method to build a site is to rely on your knowledge, skills, finances, and time. If you select a low-code structure, you're likely to go back to a more complex direction in the future. After all, it would serve as a cheap option for a short time. While launching a marketplace, you may be hesitant to choose Sharetribe or something else. Nevertheless, an API-based structure such as Sharetribe Flex suggests a dev experience for coding but needs potent skills, more finances, and a longer time to run. We decided to help you understand the Sharetribe-based site and hope you find them helpful. So, what is Sharetribe open source, and how to utilize it?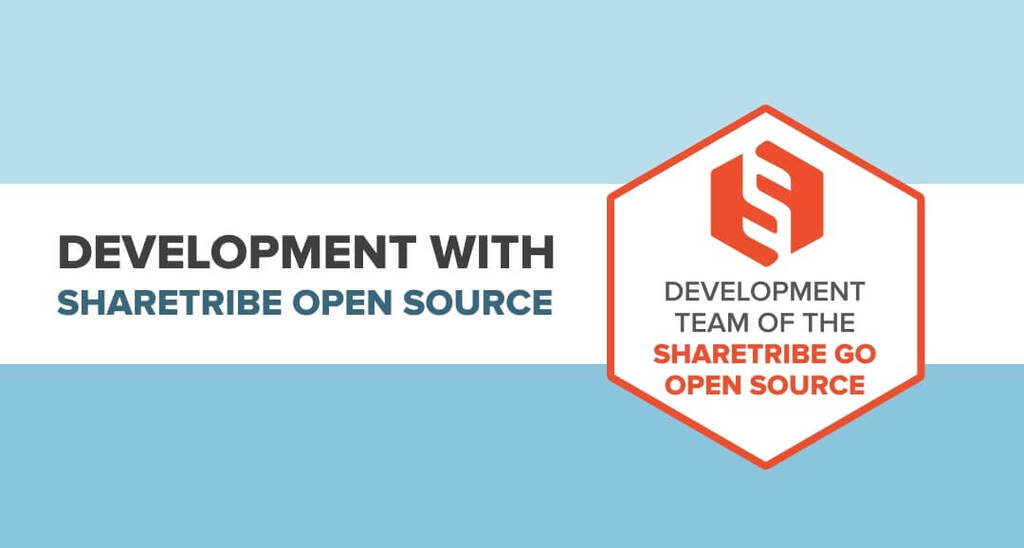 Development with Sharetribe open source
Open-source suppliers like Sharetribe and Cocorico let you access their code on Github, download it, as well as host it on your servers without ever paying a dime. Thus, the development team spends much less time creating the site, and the tech stack ensures that the resource is spent wisely and not wasted on the basics. But only in the initial stages. You can customize the existing functions and make new ones on top.
Like the other options described, this technology stack includes Ruby, RnR, MySQL, React + jQuery, and Node.js. But in 2019, there was a significant shift - the Go license was changed from MIT to the Public License Sharetribe Community. It didn't seem to change anything at first glance because the code was still available on the net. Nevertheless, it suggests a natural choice for small and medium-sized biz dominating the sharing economy and striving against the gigantic "death stars." The licenses are only an instrument to reach that goal.
Sharetribe open source allows you to run a quality initiative with limited finances. The result will be incomparable to the one that utilized the website constructor. Moreover, you may vary the extensions by creating needed functional and optimizing the MVPs. Nevertheless, if you doubt which is better: the Sharetribe open-source vs. commercial alternatives, focus on a specific audience segment and assess the product's prospects. This software version has disadvantages so the Flex-based platforms will perform better.
Using open source doesn't mean free of charge - for example, the hosting fee is the first step that will incur costs. Let's say you spend the standard price of $75 to $200 a month on it. But what about integrations? After all, they're not free either. By initially reducing the software provider's outgoings, you may reduce the product's overall value.
However, this is not the quickest path to enter the market - depending on the chosen option, you have several processes to configure the working environment, select the instruments, and integrate with third-party applications (whether Sendgrid or Stripe payment system). Only an experienced developer can cope with this kind of work.
As your biz diversifies, support will evolve into a full-time job requiring more staff to process more complex extensions. Regular updates to the latest versions, transaction processes when modifying online transaction rules, and trouble-free server operation require constant investment - otherwise, it will lead to site failure and loss of visitors. After all, many tools were not originally designed with personalization in mind: open-source soft will contain a lot of code you won't need and will get in the way. But implement one simple change, and the system will probably break. A certain type of architecture without a proper API is also a stumbling block in developing the same mobile applications. In general, we don't want you to give up the concept of working with open source soft, but you should consider that it's better to work with it at the initial stages of business development.
But you shouldn't confuse Sharetribe Go and Open Source. Go is a fully-hosted, no-code structure whose main features are excellent for C2C, B2B, and B2C models except for reversed ones. This free software version is not a bad option with a set of basic functions. The only distinction between GO and open-source is that creating a Saas site is impossible. That is to say, you won't be able to personalize the site with additional elements or implement your design. Optimization also wants to be better, so the best option is still Flex, which we will discuss below.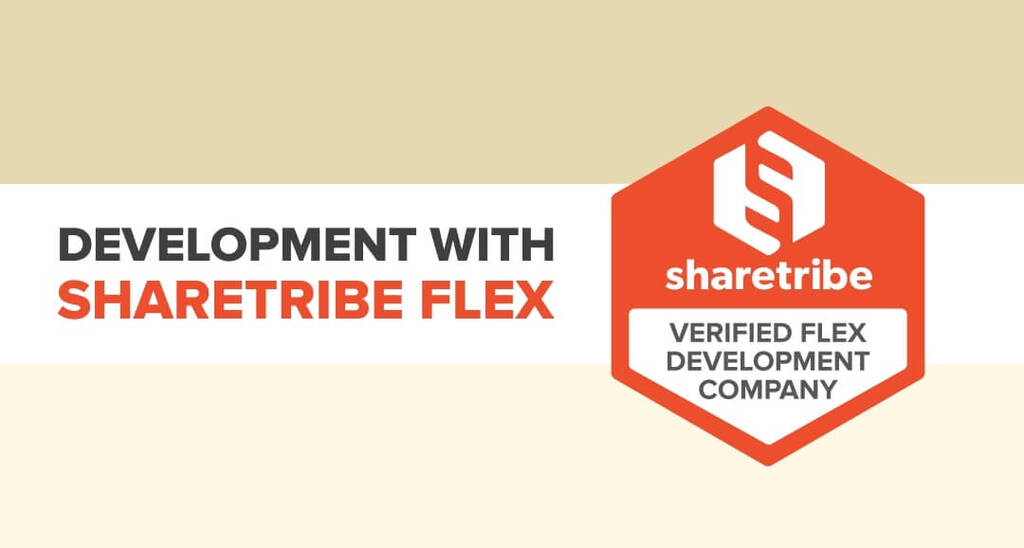 Development with Sharetribe Flex
Making a site with Flex differs from making it with Go or open source. Flex utilizes the API we discussed above (see subsection SaaS). In addition, this approach provides much more optimization possibilities because the frontend is built on React Native. Interestingly, even if GTMetrix does not show high site performance, it does not mean it is slow.
Sharetribe Flex provides three default themes: products (Sneakertime), hourly (Yoga), and daily (Sauna) rentals. They can be customized for any marketplace. So, their design will be pleasant and acceptable, allowing you to create your custom version.
Despite its name, Sharetribe Flex has certain limitations in development. And although they are few, the entrepreneur should consult with experts about their concepts before opting for this software.
It provides fewer default features than Sharetribe Go, for example, but they can be appended. Customizations take a little longer, so it's worth laying down a specific budget. In addition, take into consideration a paid subscription. But if all the requirements fit within the program capabilities and the financial plan, then the result will be a quality site.
Since the Flex server part is suggested as SaaS, it has some similar advantages to Sharetribe Go. You can not worry about violating data privacy because of the inability to modernize to the most recent version. You won't have the "short circuit" that we wrote about earlier (see Get inspired by the existing market solutions) - all your processes will run smoothly, meeting high standards.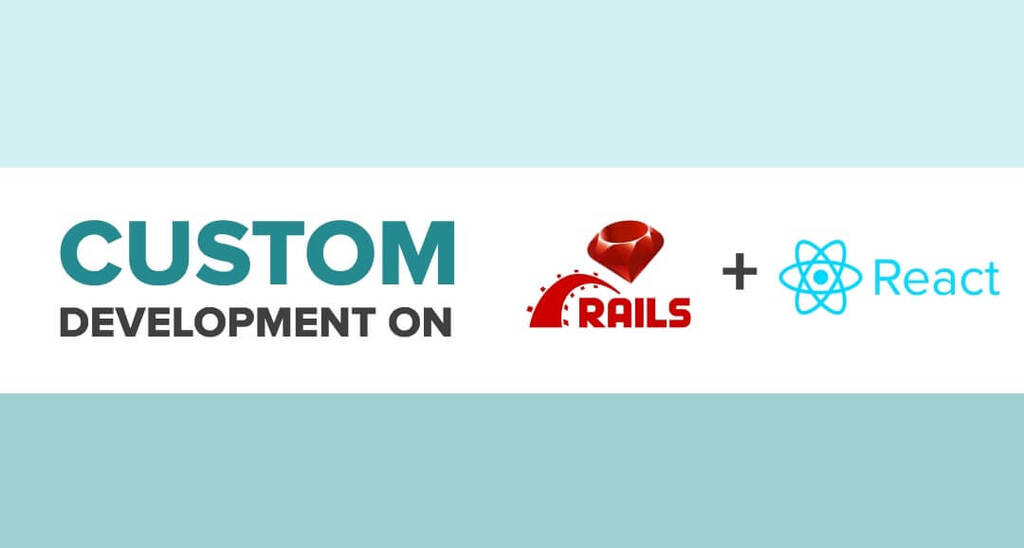 Custom development on Ruby on Rails + React
Today every second marketplace is made with RnR and React. Why? It's simple: creating a site with Ruby on Rails reduces development time by 1.5-2 times - you may bring your application to market two times faster. Plus, it's great for projects with limited funds.
Since site performance is highly valued among users, this framework allows you to produce fast sites. In addition, if you have a startup with Ruby on Rails or React, you have an instrument for rapid prototyping.
Rail is an operation-rich framework that allows the creation of an application programming interface from scratch. We've already written about how advantageous it is to make an API that shares that info and deploys it to the web.
Custom development has a wide range of operations, accelerating and significantly enlarging site performance. In doing so, the API can interact with front-end tools, such as HTML, CSS, and JavaScript, through calls to fetch(), an implementation of AJAX, and build user-friendly applications.
Mobile app development based on existing web apps
Let's assume that my elusive marketing message persuaded you, and you begin to build your app using Flex. So, the development scope will proceed as follows: you must initially opt for a particular technology stack. For iOS, it involves:
For Android, the most acceptable languages are Kotlin and Java. You could also target both frames simultaneously and utilize React Native.
You might also implement the Flex server part, applying the Client ID to call the API. Sharetribe also lets you create a mobile app using the GoNative service. If you select to design an interface from scratch, you can do it in any language.
This software also includes patterns for daily (ftw-daily) and hourly (ftw-hourly) bookings. You may also make a website related to rental services, yoga schedules, etc. The underlying code is the same but differs in the elements of time slot selection. In doing so, they deliver a friendly and rather ambitious style of adaptive interfaces.
In developing an application based on existing templates, it is necessary to modify the working medium - to do this, you must configure the console according to the software provider's regulations. Moreover, you may often contact the support service if you have any problems.
Once the programming is done, you should consider launching the app into the store and making it publicly available. To do so, study the principles and regulations of each platform, create an attractive landing page, and track key market indicators.
Conclusion
Sharetribe supports thousands of marketplaces all over the world. Regardless of the type of marketplace, audience, booking options, or niche, you may run a customizable mechanism that suits visitors and becomes profitable. This solution offers various possibilities for the entrepreneur, depending on the site's budget, wishes, and concept. Sharetribe open-source has access to personalization settings and provides basic GO functionality. Flex-based approaches are more popular because they allow you to make sites and applications based on templates and integrate different technologies.

Want to take the first step? Get in touch!