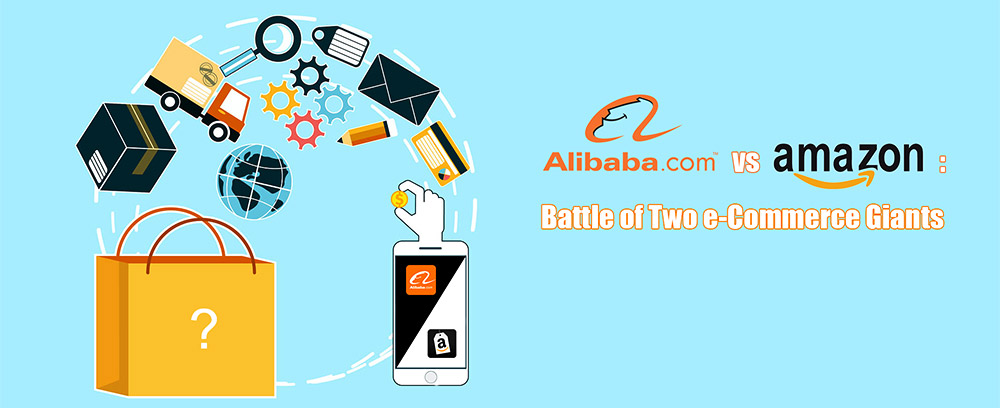 The Chinese Giant and the American Colossus find themselves at loggerheads, each determined to drive forward its own vision: a 'pure' marketplace on one hand; 'retailer logic' on the other.
Alibaba is often mistakenly thought of as 'the Chinese Amazon'. It's easy to see how people arrive at this description: after all, the two companies each dominate their respective primary markets. A quick look at the numbers for 2016 shows us that Amazon turned over $136bn, growing 27% on the year before; Alibaba is still much smaller, turning over $23bn – but it's also growing twice as fast, earning 56% more in revenues in 2016 than in 2015. In that year, Amazon had 310m customers to Alibaba's 454m – most of whom are in China.
The Distributor vs The Marketplace

But beyond these figures, the two companies follow notably different business models.
Amazon makes the bulk of its revenue on items from its own inventory. "Amazon buys and resells stock: it's retailer logic", explains Yves Martin, director of analysts Wavestone and a specialist in mass consumption.
And though income from third-party sales via its marketplace are now nudging 50% of Amazon's revenues, it retains close control over these via Fulfilment by Amazon, which allows other sellers using its platform to store stock in its warehouses. "In the fourth quarter of 2016, FBA units represented over 55% of total units sold by third parties", the group announced at the start of this year.
As a retailer, Amazon has really made its mark with things like its Kindle e-reader, which it followed up with a range of tablets and even smartphones. It has a vast fleet of trucks, planes, and boats – to which it will soon add drones. Since last year, Amazon Prime Now, a service offering delivery in as little as an hour from ordering, has been offered in cities from Paris to Singapore (it first appeared in Manhattan in 2014). Meanwhile, Amazon Fresh now offers delivery of fresh produce in several German cities, as well as London and Tokyo.
Of course, pinning your reputation on ever-shorter delivery times means continual investment in infrastructure. Among the big-ticket purchases made by the company this year is a fleet of cargo planes costing around $1.5bn. The company's globe-spanning network of warehouses is also constantly expanding.
All told, Amazon has built a solid reputation not just for speed but also for quality control. But the financial cost of this comes in the form of human resources: Amazon employs a colossal 300,000 people, and plans to grow that by a third in the next year and a half. Alibaba gets by with a comparatively lean workforce of 50,000.
In combining low prices with heavy investment, Jeff Bezos has long constrained his group's profit margin in favour of maximising growth of market share. But by last year there were signs that Amazon could now eat its cake as well as having it, its profits jumping four-fold to $2.4bn. At the start of this year the company announced its eighth consecutive quarter of profitability, driven not just by the e-commerce business for which it's best known, but also by its cloud services division, Amazon Web Services (AWS).
For its part, Alibaba focuses on connecting buyers and sellers – much like eBay. Each year, its platform processes transactions adding up to $547bn. The site has more than 20 million active sellers, and 507 million monthly users on mobile alone. 40 million packages are shipped each day following transactions that take place via its services.
But it's important to remember that Alibaba restricts itself to the role of intermediary: as Yves Martin puts it, "it's more of a technical platform in the first place, like a virtual shopping mall." The company doesn't control the delivery of products, and this makes for lower costs and bigger margins – the bottom line being a whopping $5.9bn profit on last year's $23bn turnover.
Alibaba's platform is divided into three main segments: Taobao for private sellers and SMEs (CtoC), Tmall for major brands and distributors (BtoC) and Alibaba for wholesale (BtoB). "The difference between Amazon and us is that Amazon is more an empire that controls, buys
and sells by itself ", founder Jack Ma explained in an interview to US TV channel CNBC last January, adding that in contrast, Alibaba's "philosophy is that we want to be an ecosystem."
Subscription vs commission and advertizing

So, when we break things down, how do these two giant companies get paid from their activities? Once again, their models contrast with one another.
Alibaba's commission rates are low. "On average we take between one and five percent, depending on the type of product. Other marketplaces tend to take between 12 and 15 percent in Europe", says Sebastien Badault, CEO of Alibaba France, of the Tmall B2C platform.
Which means that on actual sales, the Chinese group takes rather slim pickings. But it makes up for this with the other things it sells: like Amazon it offers cloud services, but it also monetizes its audience, especially via the C2C Taobao platform, which has becomes the largest of Alibaba's segments since its launch in 2003. The mechanism is simple: Taobao is able to put highly targeted advertising in front of the eyes of its colossal 454 million users – a user-base attained partially by the fact that Taobao charges no commission on sales.
By contrast, the trick up Amazon's sleeve is its Prime subscription offering. By paying around $99 per year, users get unlimited free delivery, usually by the next day but sometimes in as little as two hours in major cities, on what in 2016 added up to some 50 million eligible products (almost twice as many as the service had applied to the year before).
Amazon is tight-lipped as to the number of Prime subscribers it has, but a study conducted by Consumer Intelligence Research Partners estimated that the figure could have reached 80 million this year. And of course, on top of what they pay for their subscription, these Prime customers also spend more than the average shopper: $1300 per year compared to $700. By these figures, Prime customers would account for about 60% of Amazon's total sales in the US.
The West vs Emerging Markets

"Our levers and our strengths are the developing markets" – that's the conclusion of Alibaba France CEO Sebastien Badault. The group's focus on Asia has a simple rationale: most homes there are so far not connected to the Internet. Badault quotes figures saying that only 30% of people in India and 50% of those living in China can get online. So whereas, in the United States and Europe, the pie is already on the table and being fought over, in Asia, much of it is still in the oven: the one who waits patiently by the oven door will have a good chance of gobbling the lot.
This, then, is why the Chinese giant likes to invest in markets similar to the one it emerged from. Last year it bought the Southeast Asian e-commerce platform Lazada, which operates in six markets including Vietnam, Thailand and Singapore, for $1bn. The sale gave the company access to a reservoir of some 650m new customers – a big step along the way to the group's ambition of creating an 'ecosystem' of two billion people, with Alibaba in charge of managing the relationships between buyers and sellers, brands and products.
But while Alibaba stands to inherit the world's fastest-growing markets, the technical and commercial achievements of Amazon should not be understated. It has gained a perhaps unparalleled mastery of supply chains, built a market-leading repertoire of cloud services, and created a successful hardware range in its Kindle brand that neatly dovetails with the content it sells.
Both Amazon and Alibaba clearly want to be the go-to e-commerce and marketplace destination both for people in the markets they already dominate, and beyond. But as we've seen, the way in which the two companies want e-commerce to work differs dramatically – and because these organizations are so large and powerful, they have the ability to shape how people shop, as well as just responding to demand. As we've also seen, both companies have ambitions way beyond their core businesses.
In some respects, the behaviour and approaches of giant corporations is something that can be interesting, but not directly relevant to the overwhelming majority of businesspeople who work on a much smaller scale. But there are also a huge number of ways in which what these behemoths do is directly relevant to marketplace and e-commerce entrepreneurs of all sizes – and that's why it would probably be smart to continue to play close attention to them.