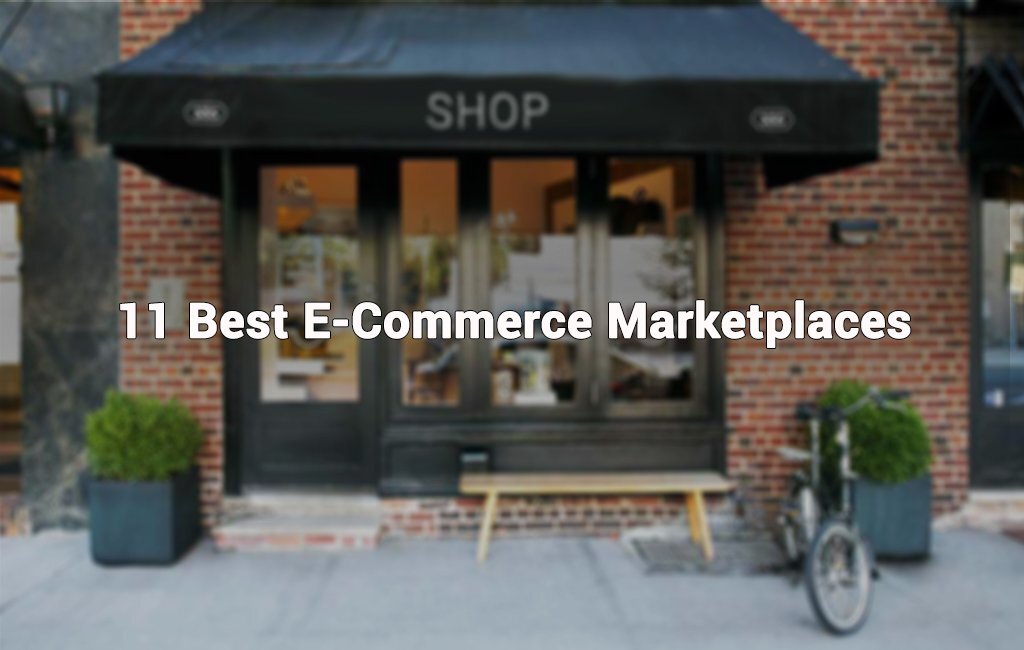 A comparison of the best solutions for creating your online marketplace
The development of marketplaces has been a turning point for the e-commerce industry. More and more online merchants, especially smaller ones, are deciding to publish all or part of their catalogs on e-commerce marketplaces like Rue du commerce, Priceminister and Amazon, in a bid to gain more visibility for their merchandise and boost sales.
But we're now also witnessing the opposite phenomenon: more and more online merchants want to evolve their business models by creating marketplaces of their own.
Inviting other merchants to sell their products on your e-commerce site allows you to offer your visitors and clients a more diverse product range, and to earn extra revenue in marketplace commissions. Unfortunately, though, some hosted e-commerce solutions, like Shopify and Squarespace, don't allow you to build your own marketplace.
For that reason, Roobykon Software wants to introduce you 11 highly efficient and well-constructed solutions that can transform your e-commerce site into a real marketplace.
#1 Marketify theme for WordPress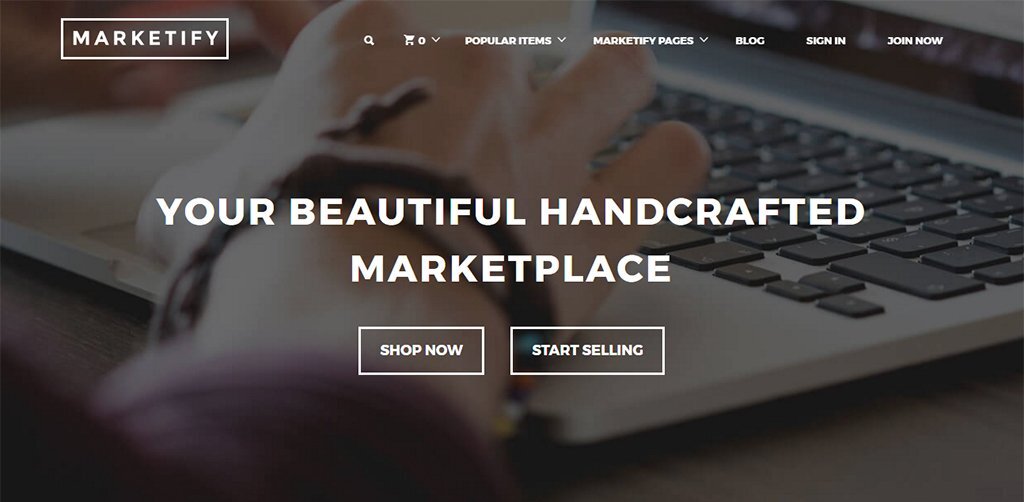 Most of the marketplace solutions we're going to talk about are extensions ('plugins') to install within your e-commerce theme. In contrast, Marketify, designed for the WordPress environment, is a theme in itself. Made by Astoundify, the Marketify theme costs $63 and is intended for a single purpose: building marketplaces in WordPress.
It is both very elegant from a design standpoint and very rich in terms of functionality, with the ability to sell all kinds of digital downloadable products – themes, plugins, audio, video, eBooks, and so on.
Marketify allows partner vendors to easily set up their subscriptions via a registration form. After that, it's a breeze for them to add their own products.
It's worth noting that Marketify perfectly integrates with the free plugin Easy Digital Downloads for the implementation of e-commerce functionality. Particularly useful is this plugin's automated sharing system for revenues from partner sales, and its powerful calculation and configuration tools for determining what commissions to charge for different vendors and products.
Marketify is a versatile theme that can also be used to create an ordinary, single-vendors e-commerce site.
Advantages of the Marketify theme:
+ Operates within WordPress, one of the best Content Management Systems.
+ Its automated payment management system enables very easy management of partner sales.
+ Very professional design.
Disadvantages of the Marketify theme:
– Only designed for sale of digital products
– Only available on WordPress
#2 Magento, and its Marketplace plugin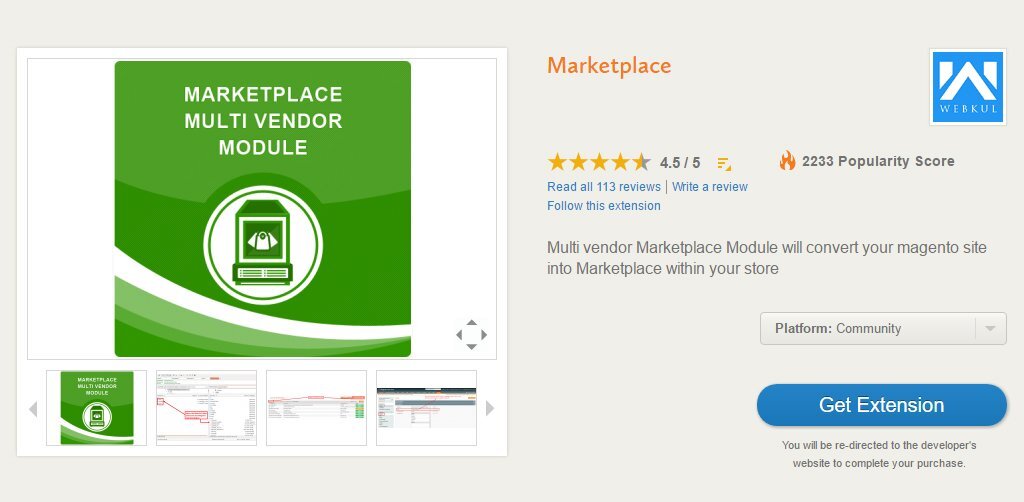 Magento's marketplace plugin (or 'module'), offered at the price of $349, lets you create a marketplace inside the Magento environment.
Remember that like WordPress, Magento is open source – so it's free and very modular, but also dedicated to the creation of e-commerce sites. There are many plugins in existence to create an online marketplace within Magento, but this one is undoubtedly the best.
The Marketplace plugin for Magento lets you turn your site into a marketplace platform at any time. You just need to buy, download, install and configure the plugin.
It gives you the ability to create different vendor accounts, letting your partners manage for themselves the products they sell on your site. Vendors can customize their presence on your site with their own logo, images, multimedia, client reviews, and so on. Plus, you can set custom commission levels for each vendor.
Advantages of the Magento Marketplace plugin:
+ Very easy installation (compared to competitor solutions).
+ Ability to set individual commission levels for each vendor.
+ Separate profiles for each vendor.
+ Great quality HTML markup.
+ Easily reachable and pretty responsive support.
Disadvantages of the Magento Marketplace plugin:
– By design, the plugin cannot be installed on sites not based on Magento
#3 Prestashop with Agile Multiple Seller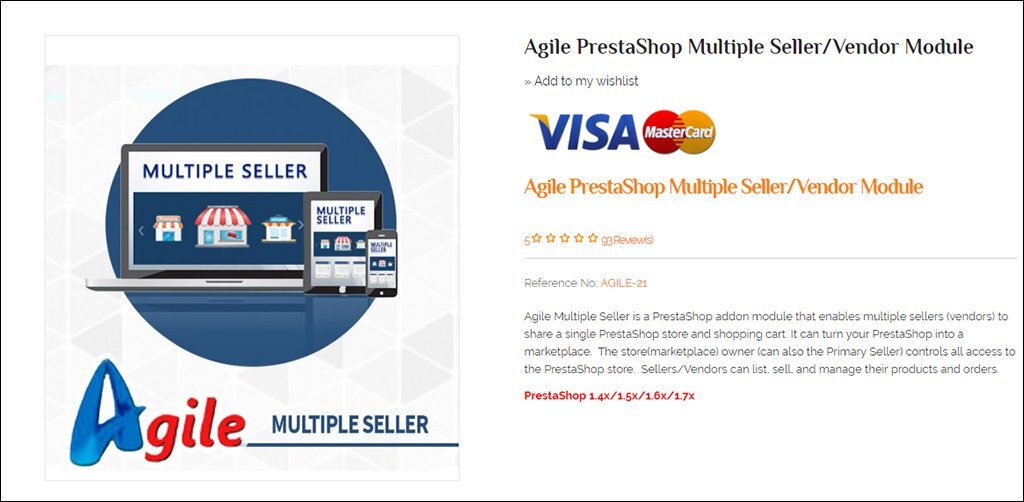 Prestashop hails from France and is the main competitor to Magento – these two are the main free, open source solutions entirely dedicated to the creation of e-commerce sites.
Agile Multiple Seller is one of the best Prestashop plugins for building a marketplace, thanks to the flexibility of its functionality. Costing $144, it provides all the features expected from a marketplace solution – both for vendor profile management and commission configuration.
This plugin allows vendors to customize and manage their online store interfaces independently, setting a logo, choosing a URL, and even putting in place a totally custom theme.
As for payment management, the plugin offers three different possibilities: you can authorize vendors to collect payments themselves, manage payments yourself, or make use of the co-management interface.
Advantages of Agile Multiple Seller:
+ Ability for each vendor to manage the whole of his shop configuration on your marketplace, from catalog and design, to payments.
+ Option to manage vendors' access and payments if you prefer to keep more tightly in control.
+ A very agile solution, both in terms of shop management and management of payments.
Disadvantages of Agile Multiple Seller:
– Each vendor can only manage one shop configuration.
– Available only to Prestashop-based sites.
#4 Mirakl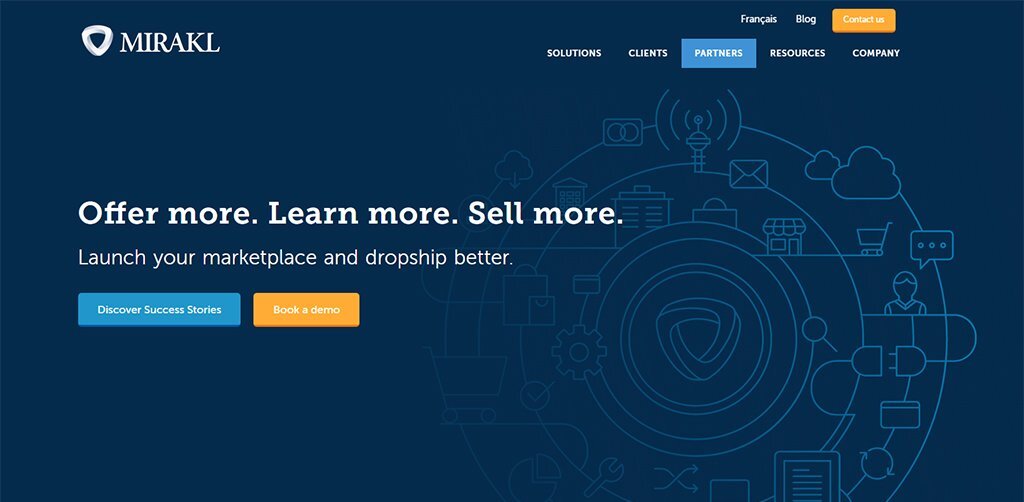 Mirakl was created in 2012 by a French tech startup, and represents a 'top-of-the-range' marketplace solution – notable users include Darty, Boulanger and Auchan.
After raising 18 millions euros last year, its parent startup has recently launched a vast internationalization strategy, with particular focus on the US market.
Mirakl offers the richest functionality of the solutions looked at here – but it comes at a price. Mirakl is one of the most expensive solutions on the market.
Advantages of Mirakl:
+ Overall quality is well above most of of its competitors.
+ Track record: Mirakl is the platform of choice for Darty, Galeries LaFayette, Auchan, Boulanger, and Rue du Commerce.
+ Feature-rich functionality.
+ Automation of customer-related communications (with automated responses), simplifying the management process for vendors.
+ Vendor management tools (the ability to suspend accounts, for example).
+ Can be integrated with any e-commerce ecosystem – Miralk is not a plugin, but a freestanding SaaS application.
Disadvantages of Mirakl:
– High price (set individually for each user) – this is the only big disadvantage of Mirakl.
– Mainly targets large e-merchants, though Mirakl aims to expand its coverage.
#5 Drupal with Ubercart Marketplace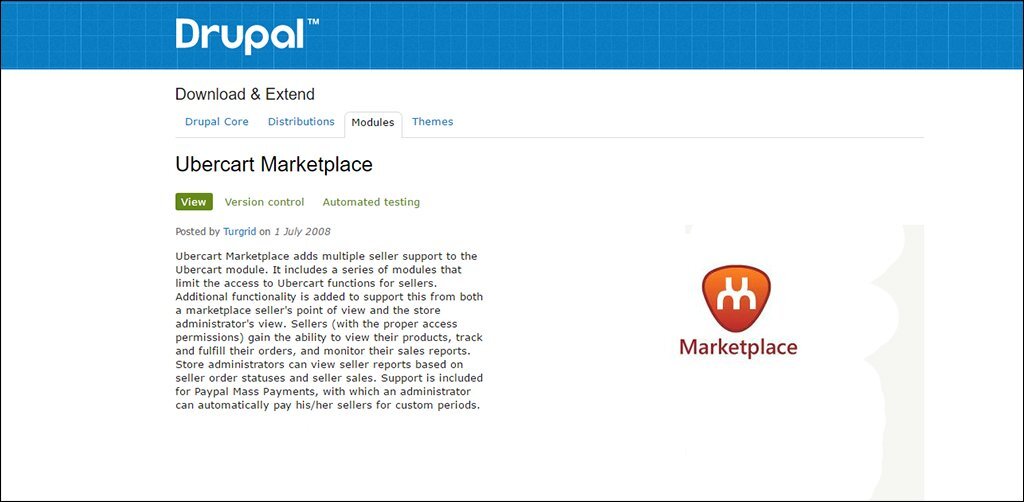 Ubercart is a free module which allows you to transform a Drupal e-commerce site into a marketplace. It offers a full range of functionality, but does require coding skills and web development experience.
Ubercart is very flexible, allowing each vendor to manage their shop independently; vendors can track orders and access activity reports for their shops. Payments are handled by PayPal Mass, which allows semi-automated distribution of payments to vendors.
Advantages of Ubercart Marketplace:
+ Feature rich functionality.
+ Very flexible management of vendor profiles.
Disadvantages of Ubercart Marketplace:
– Requires development skills, and so not suitable for novices.
– Only available for sites based on Drupal.
#6 CS.Cart Multi-Vendor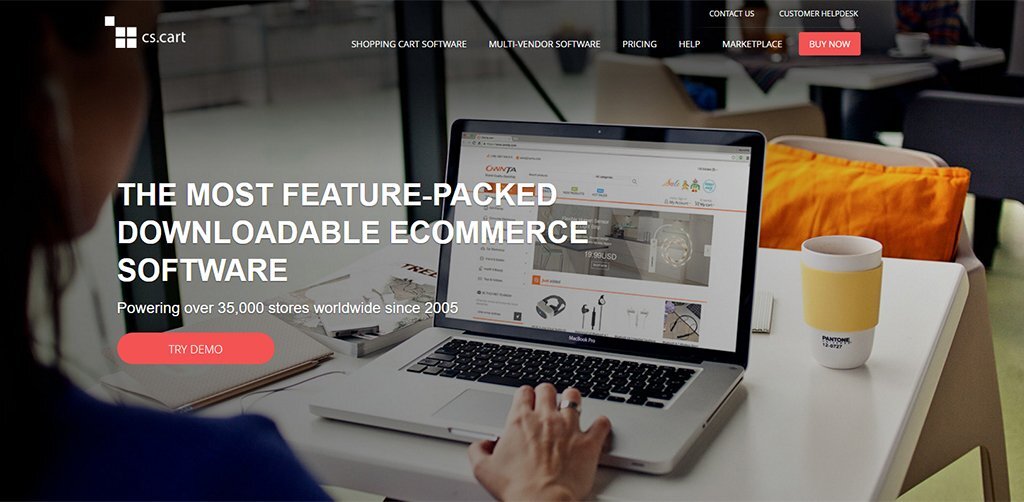 CS.Cart is an open source software package for building e-commerce sites. Out of the box, it doesn't offer the option of creating a marketplace, but the company behind this software has now launched a version of CS.Cart that does support this goal: CS.Cart Multi-Vendor.
It's not a plugin, and the price is on the high side: $1450 for a lifetime license, or an annual subscription of $590. But the software offers a very flexible platform in terms of usability, with an interface that can be customized by each vendor. In short, CS.Cart Multi-vendor is both functional and ergonomic.
Advantages of CS.Cart Multi-Vendor:
+ Marketplace features out of the box, so no need to install and configure a plugin.
+ Feature-rich functionality.
+ A unique interface for each vendor.
Disadvantages of CS.Cart Multi-Vendor:
#7 Yo!Kart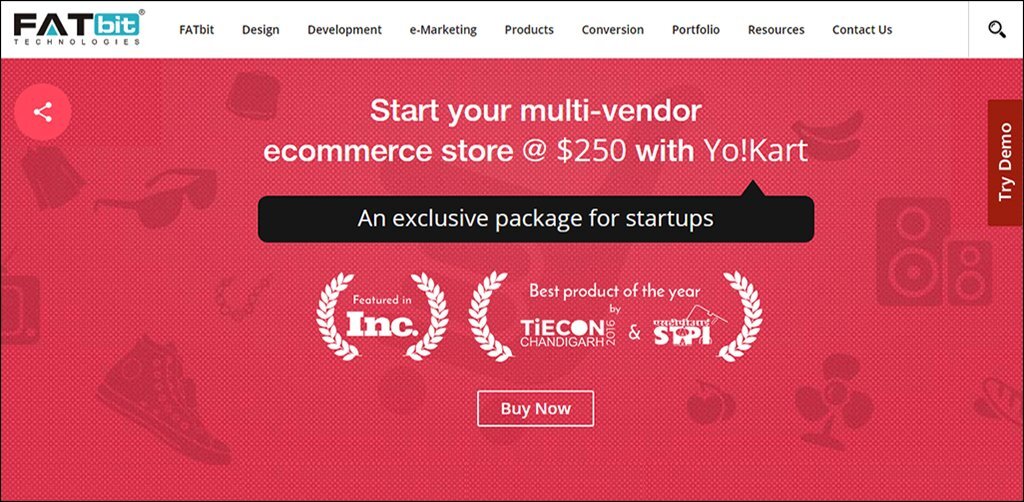 Yo!Kart is a relatively little-known solution, despite its strengths. It's not a plugin but rather an independent piece of software dedicated to building marketplaces. Its intuitive and fully-customizable interface is really rather remarkable.
The principle is simple: vendors manage their shops and catalogs themselves, but you are in charge of moderation. You are informed about each modification by a vendor before the change becomes publicly visible. This gives vendors a feeling of autonomy while leaving you in ultimate control.
It's worth noting that, should platform-owners want to keep their own brand front and center, Yo!Kart also allows you to make some vendors anonymous – the name of the vendor is not displayed to people visiting the site.
Yo!Kart offers three prices: $250, $999 and $5999, depending on the size of your marketplace.
Advantages of Yo!Kart:
+ It's a platform entirely dedicated to building marketplaces.
+ The interface is very pleasant to use.
+ Good balance between freedom for you and security for your site, most notably thanks to the moderation subsystem.
+ Option not to display vendor names on the front end.
Disadvantages of Yo!Kart:
– Rather high price (for the most expensive 'Go Custom' plan).
– Yo!Kart cannot be integrated into existing e-commerce sites based on other platforms.
#8 Sharetribe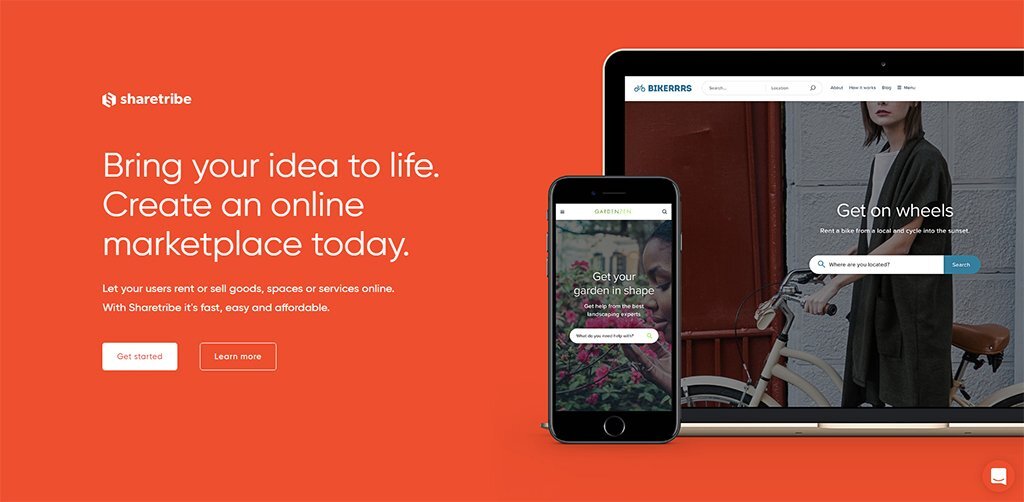 Sharetribe is an e-commerce software package designed exclusively for the creation of marketplaces. This specialization explains its very rich set of supported features. Sharetribe lets you choose from several plans, depending on the size of your marketplace: you can manage anything from 300 to 100,000 vendors.
The monthly subscription fee varies from $39 to $239.
A little bonus is that Sharetribe not only allows your members to sell their products, but also to lease them. In other words, Sharetribe allows you to create service marketplaces.
Each member is free to customize their account according to their personal preferences.
Finally, it's worth noting the great messaging functionality, which allows vendors to stay in touch with their customers.
Advantages of Sharetribe:
+ Designed especially for marketplace creation.
+ Feature-rich, letting members sell and lease both products and services.
Disadvantages of Sharetribe:
– Cannot be integrated with existing e-commerce sites.
#9 X-Cart Multi-Vendor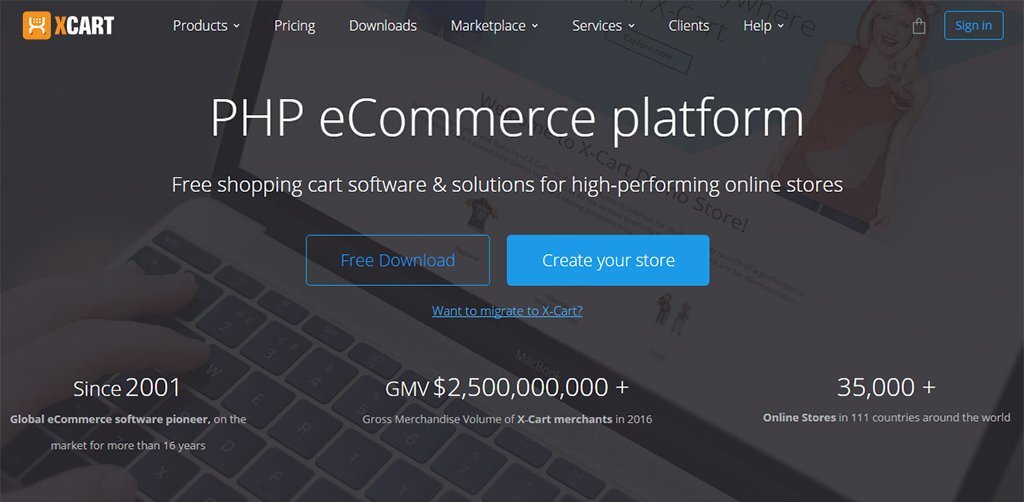 X-Cart is an e-commerce solution that can work for all sizes of business. The Multi-Vendor plugin, sold for $1495, allows you to create a marketplace on X-Cart with all the functionality expected from this kind of platform.
Vendors can control their orders, modify delivery terms, and arrange their products into categories. X-Cart is designed to let the administrator retain complete control over all that happens in their marketplace: you can modify or remove any product on the site, and manage the registration of new vendors.
Advantages of X-Cart Multi-Vendor:
+ Administrator interface lets you keep control over products offered on your site.
+ Vendors can arrange their products into categories.
+ All-round rich functionality.
Disadvantages of X-Cart Multi-Vendor:
– Only available on the X-Cart e-commerce content management system.
#10 OpenCart with Multi Vendor / Drop Shipper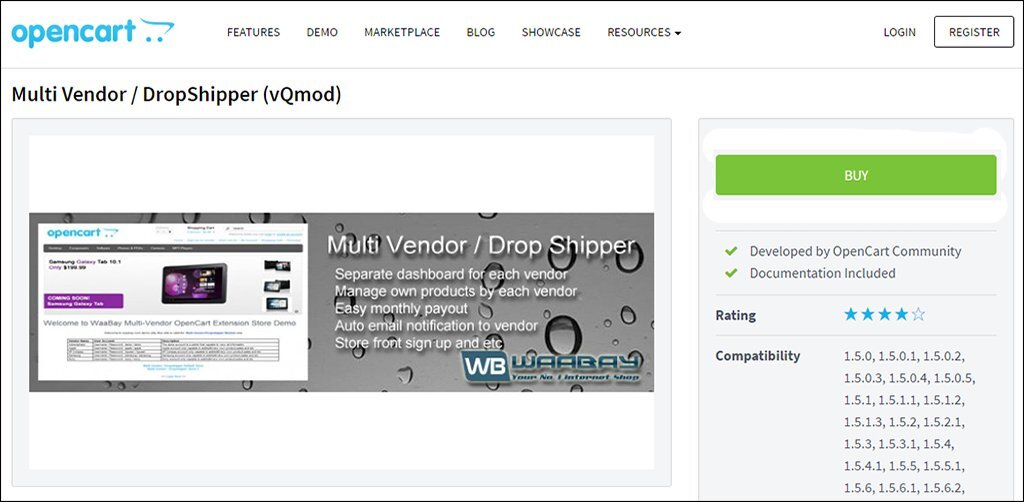 Opencart is a relatively little-known open source software solution for creating small and medium-sized e-commerce sites.
To create a marketplace using Opencart you'll need to use the Multi-Vendor / Drop Shipper extension. It costs $159.90, and provides each vendor with a secure management interface.
Vendors are sent a notification for each order they receive, and payout to vendor is performed automatically once per month. As an open source solution, Opencart requires solid knowledge of coding, so it's not ideal if you're a novice wanting to establish a marketplace by yourself.
Advantages of Multi-Vendor / Drop Shipper:
+ Good notification subsystem.
+ Automated payment management.
Disadvantages of Multi-Vendor / Drop Shipper:
– Getting used to it can be a steep learning curve.
– Not suitable for novices.
– Only works on OpenCart.
#11 IXXO Cart Multi-Vendor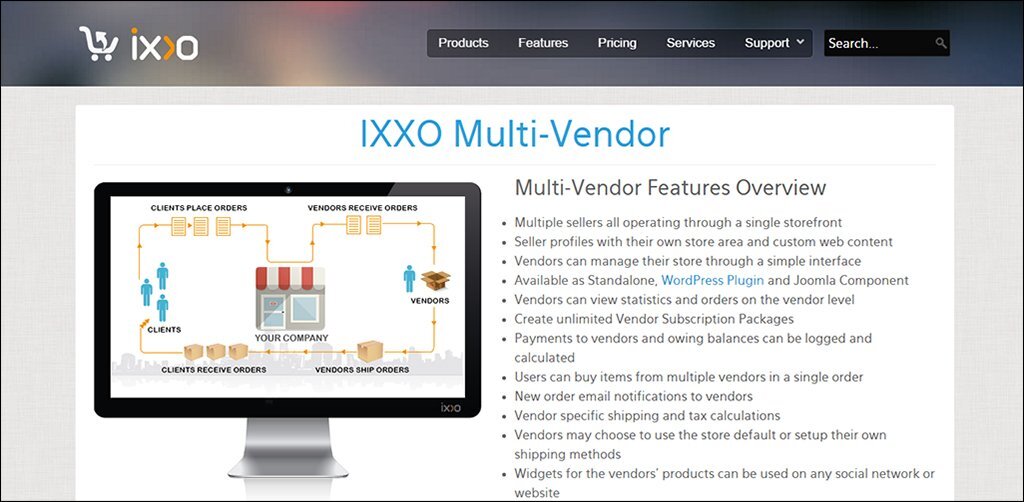 IXXO is a plugin that perfectly integrates with open source solutions like WordPress, Prestashop and Joomla. But IXXO also allows you to create standalone marketplaces.
The price of IXXO varies a lot: depending on the features you choose, it ranges from $295 to $1495.
Vendors get a good deal of freedom, such as the ability to choose their delivery method, set their VAT status, and manage how products are described and their placement on the page.
Payment to vendors can be done via PayPal. Vendors can receive notifications for each new order.
Advantages of IXXO Cart Multi-Vendor:
+ Tight integration with WordPress, Joomla, Prestashop and other environments.
+ Numerous and flexible features.
+ High level of security.
Disadvantages of IXXO Cart Multi-Vendor:
– Difficult to master, and using it takes some technical skill.