Airbnb for Your Pet
Having a pet in your home gives you limitless love on tap but also huge responsibility. Sooner or later, every pet owner will face the same problem: what to do when you go away for a business trip, vacation, or hospital treatment? In many cases, people need look no further than relatives, friends or colleagues. But sometimes, much as these people may want to help, they lack the space, time, and experience to play host to your four-legged buddy.
According to Pet Sitters International, the limitations of informal pet care are fueling a boom in the pet care industry. In 2018 alone, $6.47 billion was spent on dog care and boarding in the US, and this figure continues to grow.
Happily, this high demand is increasingly well-supplied. Innovative platforms like the Rover.com dog community have begun to replace traditional kennels offering more individualized care, and creating opportunities for independent pet care providers. So if you're thinking of starting your own business in this increasingly popular service niche, read on as we explore this recent American success story.
Meet Rover!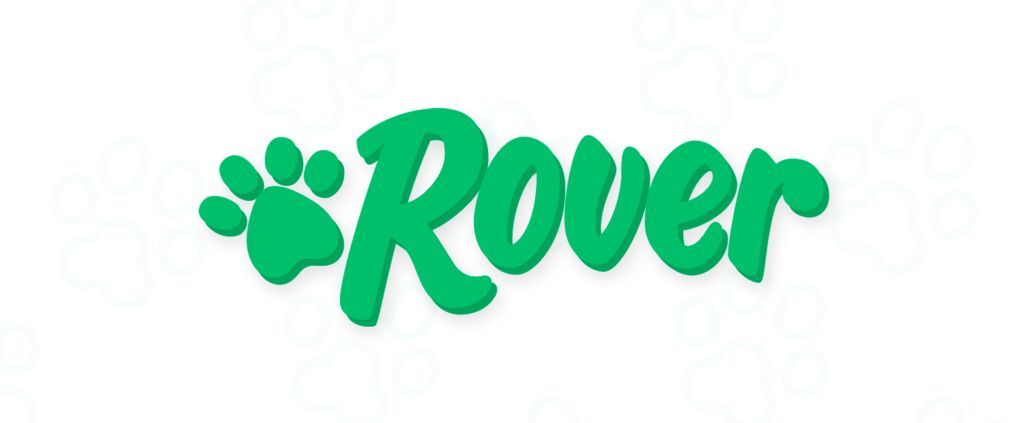 Founded just seven years ago in Seattle, Rover.com has become the largest service marketplace for pet owners. The platform today brings together over 200,000 dog sitters and "dog parents" from 14,000 towns and cities across the US.
It started out as a simple dog community site, aiming to help pet owners find a safe pair of hands to leave their animals in during trips away. But by this point, there's a lot more to it than that: pet owners can choose from multiple services, including dog boarding, drop-in visits, grooming, and training. And it's now not only a dog community site services are offered for cats, goats, lizards, birds, turtles, fish in fact, if there's a professional out there that deals with a particular type of animal, there's a fair chance they're on Rover.
Like so many startups, this one wouldn't have gotten off the ground if not for the grit of its founders Greg Gottesman, Aaron Easterly, and Philip Kimmey. Together they grew an initial staff of 10 up to an impressive 460 employees, and as more hands came on deck, the value of the ship also rose the company is now worth $970 million. A service is booked on the platform every four seconds, with its owners taking 22% from each successful deal.
Rover's strict rules and careful vetting of service providers has led to 95% of providers having a 5-star rating accordingly, client loyalty is high. Community membership is growing steadily, and surveys show that 90% of users recommend the service to others.
The making of Rover startup, community, marketplace
June 13, 2011, is designated as the official birthday of the startup, which was initially known as A Place for Rover. It all began at Startup Weekend, an annual event where over a marathon 54 hours developers, marketers, and designers present their business project demos to investors. It was here that Greg Gottesman, managing director of Madrona Venture Group, got talking with an 18-year-old student from the Computer Science faculty of Washington University who had opted to do business development his own way, instead of taking a summer internship.
The idea to make an "Airbnb for pets" popped up after Gottesman shared a negative pet care experience. While he was on vacation, his labrador Ruby had been injured at an elite kennels in Seattle. This undermined his confidence in what had been a trusted organization, and when his 9-year-old daughter mentioned that she'd be happy to look after other people's pets, Gottesman put two and two together dog care could be carried out better by individuals, he realized.
The computer science student, whose name was Philip Kimmey, heard the idea, and approached Gottesman: "I like dogs I think I can build this thing!", the young man told the investor.
From there, it took an inspired team of ten people just three days to create a working prototype for an online community connecting dog sitters with, as the startup referred to them, "dog parents". Gottesman and his team took first prize at Startup Weekend, and shortly afterward the investor shared his new project with Aaron Easterly, General Manager of Ad Networks at Microsoft a leading expert in online marketplaces. Six months later, the Rover.com marketplace had been launched.
What pet owners want
"Greg was focused on fixing the kennel problem, because kennels are expensive, rigid, and most people don't use them, while I was sick of having to ask my friends to take care of my Pomeranian she had skin conditions, and when I'd take her to friends, I'd be like, 'Here's her ointment, it needs to be rubbed on her belly three times a day.' They would stare at me with their jaw open, and then say, 'Dude, I'm doing you a favor, so you'll get her back alive, and that's about all I'm gonna promise.' We underestimated the dissatisfaction with hiring friends and family, and that there are aspects of a commercial relationship that could actually be very positive."
These words from Aaron Easterly, the third co-founder of the project perhaps give the best insight into why Rover.com has become so popular among pet owners. In a nutshell, every one of them can be sure that their pets will receive proper care and that all their specific needs will be taken into account.
The platform has a high degree of trust built in, but for extra peace of mind, pet parents have the option to set up a meeting with their prospective pet carer ahead of making a booking (this can take place at either party's address, or somewhere else it's up to the parent). Price-wise, a 60-minute walk comes in at around $30, while an overnight stay is around $40.
As part of its goal of being a full-service community marketplace, the platform provides insurance for all services booked through it including coverage for house damage and pet injuries. It also gives you access to a veterinary advisor and 24-hour phone support. The Rover mobile app lets pet owners communicate with service providers 24/7, receive videos and photos of their pet, check walking routes on an integrated map, and see what activities their pet has been up to (including tracking comfort stops). Once a service agreement has been fulfilled, users can leave feedback about each other just like on other popular online marketplaces such as Uber and AirBnB.
To engage new service users the platform offers free trial walks while existing users are rewarded for their ongoing business using promo codes giving access to special deals.
How sitters make money at Rover.com
The platform allows anyone who likes pets and wants to make some money to become a community member but first, you'll have to officially apply for membership, and create a profile. Appropriate certifications will be a plus because while anyone can begin the process, the journey to becoming a sitter has some necessary hurdles along the way. Rover has very strict regulations that ensure only suitable candidates make it through the selection process (the company reports that only around 20% of applicants make it).
More specifically, the current application process includes a background check, a quiz on dog care basics, and an online video lesson followed by a knowledge test. Once you get to creating your profile you'll need to set your service prices and working schedule and specify what pets live at your place, if any. Then you can add personal and family photos, pet photos (if you want), and photos of the accommodation on offer to your four-legged guests. You can even set size limitations for the dogs to be accepted for sitting. Dog sitters get continuous training and the ability to build up a trust rating and they can accept or decline service requests themselves.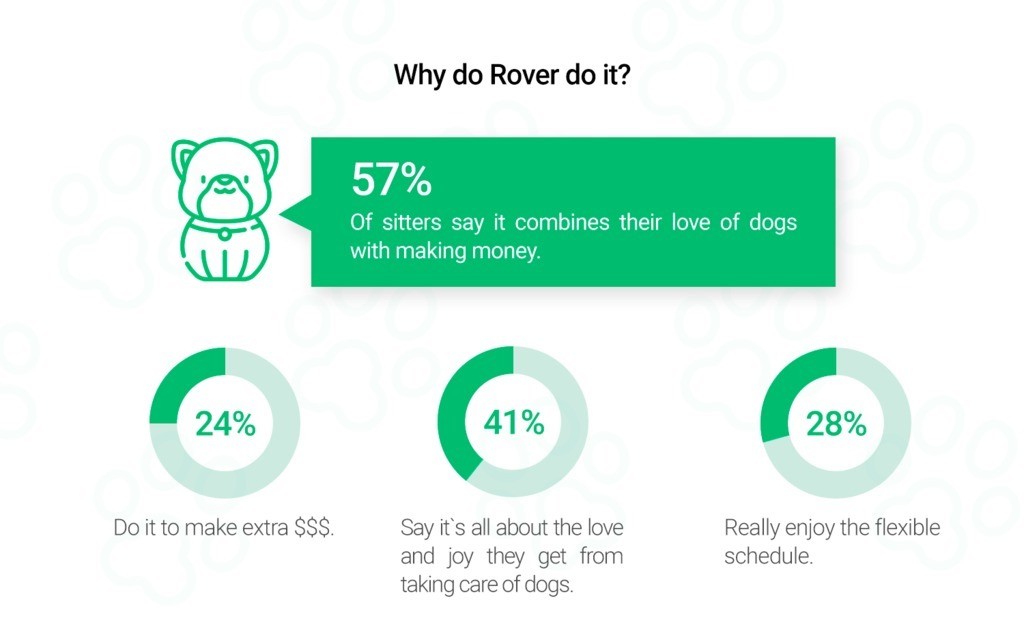 So, how much money can a sitter earn through the platform?
Kristen Forecki, director of operations at Rover.com, says that sitters' incomes can vary based on a wide range of factors:
"We have many sitters that treat Rover as a full-time job, including a few that make six figures annually as a Rover sitter. However, the majority of our sitters treat this as a part-time role. Part-time sitters and walkers often use sitting 'as a fun and rewarding way to supplement their income, pay down their rent, save for a vacation, buy a car, or to pay vet bills for their own dog," she explains.
On top of that, community members' hourly rates may vary widely from $20 to $50 (at its launch, the service charged a 15% fee for each transaction today it's 22%). But generally, even going back to 2011, those prepared to work every other week, taking care of two to three dogs at a time, earned $1000 on average each month while full-time sitters could make up to $3300.
Of course, sitters' earnings have increased each year. Mean annual gross earnings are as follows:

How Rover found success
Leaving aside the sharpness of its technical operation, it's safe to say that Rover simply identified and filled a very fertile market niche. The past decade has seen an unprecedented surge in spending on pets, something which many attribute to the particular attitudes and circumstances that accompany the coming of age of the Millennial generation of post-1981 tech natives.
According to research agency Mintel, three-quarters of Americans aged around thirty now have dogs, while over half have cats. One theory is that because Millennials are getting married and having kids later than past generations, they need to find an alternative object for their parental instincts. And these alternative "babies" are often given all the comforts that their human counterparts might expect: from nutritional products, clothing, and healthcare, all the way up to luxury accessories and spa services.
Looking at the numbers
A national survey conducted by the American Pet Products Association (APPA) in 2017-2018 showed that 68% of US families, or 84.6 million households, have pets a 12% increase compared to the 1980s. A decade ago, the industry turned over $44.6 billion annually today, people spend more than half as much again.
In fact, a look at just the past few years shows what a steep growth trajectory the industry is on:
2016: $66.75 billion
2017: $69.51 billion
2018: $72.13 billion
Dog care and walking services account for about a tenth of that total expenditure while sitting services are becoming more popular by the day.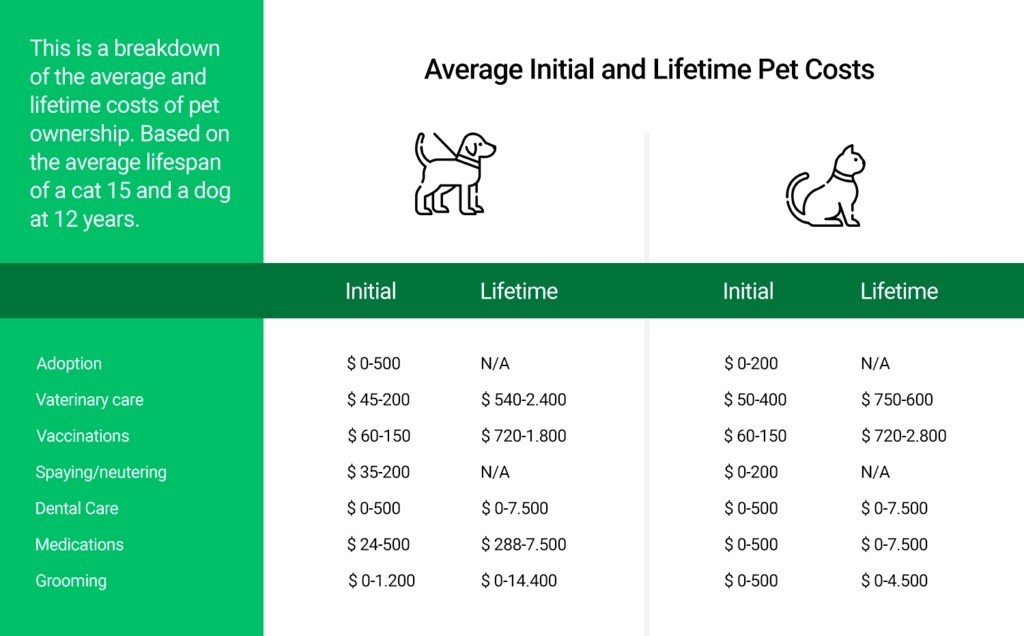 As we've mentioned, Rover is today one of the biggest players in the fast-moving pet care industry: propelled by venture capital to the tune of $310 million, its market value has been estimated at $970 million. Below are a few of the milestones passed during the community's eight-year journey.
Once initial development was complete, Rover began providing dog-sitting services in Seattle and Portland. Within two years the project's reach had grown to encompass all fifty states, its almost 80,000 members hailing from 4300 towns and cities countrywide.

Since those beginnings in 2011, Rover has secured successive rounds of investment from organizations like Madrona Venture Group, A-GRade Investments, Menlo Ventures, Foundry Group, Petco, CrunchFund, and Rolling Bay Ventures.

In 2015 Forbes included the service in its list of "Hottest Startups".

Within four years of the platform's launch, pet owners could choose from a range of services including dog walking, doggy daycare, and drop-in visits.

From 2015 to 2017 Rover was among Seattle Business Magazine's "100 Best Companies to Work For".

In 2017 the platform launched Quick Match, allowing pet owners to instantly order a walk.

Also in 2017, Rover purchased competing startup DogVacay, boosting its usership and income.

In 2018 Rover bought its European competitor DogBuddy and in so doing allowed pet owners from France, Germany, Italy, The Netherlands, Norway, Spain, and Sweden to join the Rover community.
It may now be a major business, but the Rover story began with Greg Gottesman's simple idea that "being authentic and personal when you're pitching someone a problem and a solution is far more compelling than when you pitch an idea  even if it's a great idea   that isn't authentic to you." Today, this insight has borne fruit, producing a thriving community that is a magnet for users and investors alike.
If Rover's story has inspired you to begin your own marketplace business journey, we'd love to hear from you. Roobykon Software has eight years' experience in development for e-commerce and using our extensive expertise and awareness of the latest market trends, we can build the best solution for your marketplace. We begin with an up-front analysis of your idea and requirements, transport your project through a successful launch, and then provide the maintenance, support, and further development needed to go on succeeding.