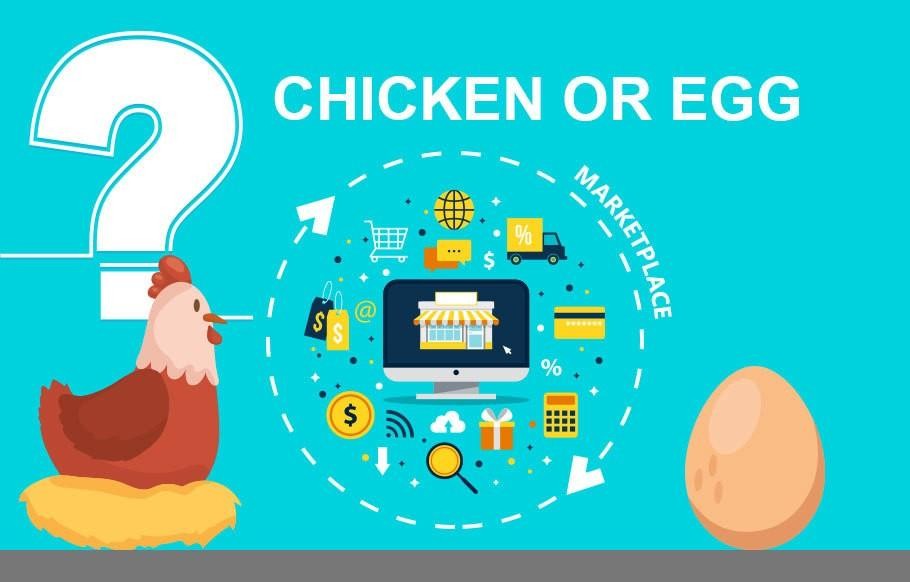 When you launch your own marketplace, it is common to face the chicken and egg problem - to attract sellers, you need to have a large number of buyers, and vice versa. In case of a marketplace, the value proposition of customers is built directly on that of retailers.
You can see it in startups that haven't yet jumped in the loop and overcome the chicken and egg strategy problem. Try skimming all of the options you have - what has already been done by others to resolve the marketplace issue?
1. Develop a Plan for Customer Acquisition
The first step in your eCommerce marketplace development is customer acquisition. Get to know them. If it is a business, for instance, think about their line of work, and why their employees are most likely to approach you to buy your service.
Look for patterns: where and why they search if they're buying product like yours, ways to approach them via social media and the Internet. How likely are they to use an eCommerce marketplace? You'll have to choose the platform for reaching out to them - plan out the ways you can present yourself to attract more customers.
2. Reach out Through Cold Calls and Emails
This is definitely worth your consideration, especially if the stakes are high in your business. Cold calls will give you the advantage since it is outbound marketing. This will allow you to establish a connection with your target group before anyone else.
Before making a call, don't forget to get to know these people, their current problems and ways of handling situations. This way, when you call them, you will be able to make it clear why they need your services.
Emails are yet another effective tool to expand your business. It is an excellent way to connect with your customer and promote your services.
How to Get an Email List
It is not as difficult as it may seem - you need to follow three basic steps:
Add a newsletter subscription option to your website.
Create a familiar and intuitive signup form.
Incorporate a social media signup option.
3. Craft an Engaging Newsletter Content
Email newsletters are an easy way to help your marketplace grow. Information pollution online is an actual issue - you must make sure your message will be personal, so that the person it reaches definitely clicks on it. It has to be useful and informative.
A pro tip: know your content a month beforehand. We've compiled several tips to help you do it.
Map Your Newsletter
All of your market activity depends directly on the calendar events. Is there a specific holiday or a major event that could influence your sales?
Survey Your Audience Regularly
It's always a good idea to update your letters with fresh information about trends.
Keep a Tickler File
Dig up some juicy content in advance in case you feel your letters need that extra boost of quality content.
Archive Your Newsletter Articles
Having the articles on your website will increase the likelihood of getting more subscriptions.
Use Pictures
Most people are visual learners. And, in any case, a bright and colorful picture appeals to any reader.
4. Find Prospects on Social Media
Befriend your customer using social media engagement: likes, follows, replies and mentions do their job.
Being active online creates a profile of someone familiar rather than just another nosey company. Interacting with your audience really helps to resolve any issues and close the distance between your online marketplace and its clientele.
Make Your Profile Easy to Find
Use keywords and write catchy, simple headlines to get to the top of the search results page. Optimize your Facebook profile and make sure it contains all the useful links and names that someone looking for your online marketplace might need.
Join the Right Groups
Make sure to join the groups where your potential customers communicate.
Share the Right Content
Sharing irrelevant, useless articles, being overly enthusiastic or marketing-oriented will push your followers away, whereas knowledgeable and thoughtful content will attract them.
5. Check Your 'Contact Us' Page
When it's about communication between them and their customer, it all comes down to their contact form. Here is what a good one would look like:
It is easily noticeable on the homepage.
Phone number and email address are essential.
It includes a description of the reasons to contact the company.
It contains a brief sign-up form for basic information on the visitor.
There must be an option for customers not willing to give their personal information in the form.
There is an account of the company's mentions in social media or the press.
It has links to the company's Twitter and Facebook accounts.
There is a polite and comprehensive thank you page after the inquiry is sent.
It has an aesthetic, visually appealing design.
It has a list of the services your company provides, along with the description of your mission.
There is no unnecessary information.
6. Work with Your Local Newspapers
You can find a new customer via digital or physical newspapers. If you spot an interesting article about someone, you can email them and tell them how much you enjoyed it, including the relevant information promoting your business at the end of your message.
7. Press Releases or Magazines
A great way to gain trust and promote your company is to make a press release about it in a popular magazine or journal. This gives you the opportunity to present a professional insight into your business, along with giving the reader that much desired boost of fresh information. Making a deal with a magazine regarding an article about your marketplace means that your target audience will be likely to show interest in you and your content as well.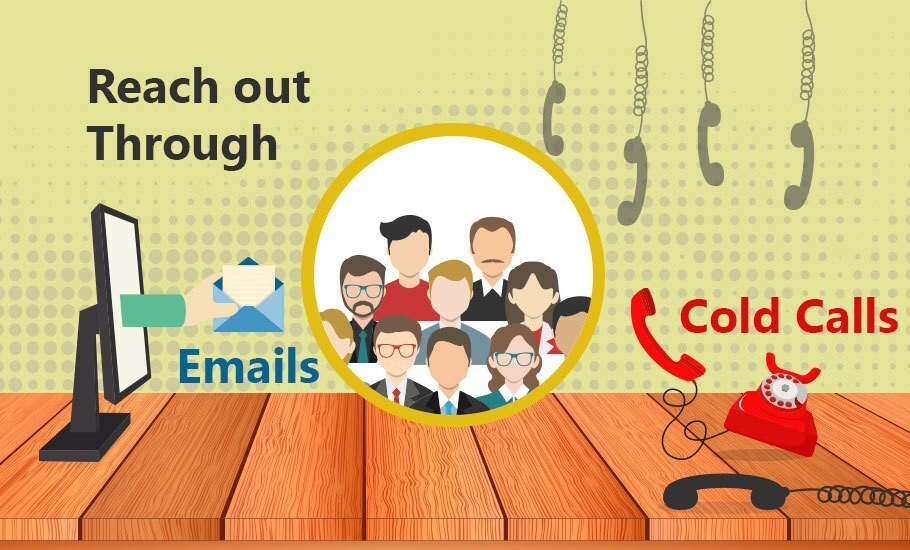 8. Consumer Sales Promotion
Sales promotion has been proven to be an effective marketing tool to reach the consumer about a new product for both mature and new businesses. Not only you might interest a new customer, but also be outstanding in competition. Here are some key points to guide you through sales promotion:
Price Reduction
Studies have shown that it is appealing to buy more products when their prices are temporary decreased.
Loyalty Cards or Programs
A range of benefits for loyal customers is known to attract more long-term buyers willing to save money and continue buying your product.
Coupons
Gifts, discounts, vouchers and promo codes will incline the customer to purchase from you again.
Rebates
To make a rebate, your customer will come back to your store, and maybe they will feel like making another purchase once they're there.
Sweepstakes
Even a slight chance to get their desired item for free will allure the consumer and make them stay on your online shop longer.
Raffle Draw
Winning a lottery and receiving an unexpected prize is a luxury that few people dislike. It will surely keep your customer interested in your brand.
9. Advertising
Advertising is a way to spread awareness about your product or services. Below are listed some of the ways to advertise your company.
Classic Ad
Most people receive information through the media. Classic ads include things like billboards, magazines, newspapers, and TV.
Billboard Ad
This involves putting up your commercial onto a billboard.
Object Ad
Find an alternative use for an object to advertise your product or services.
Offline-Guerrilla-Marketing
Objects found in physical locations for creative marketing.
Phone Book
A telephone book will make an easy and effective ad.
Radio Commercial
Choose a transmission time suiting your interests and run a radio ad.
Television Ad
Define your target group and reach out to them via TV.
Video Ads
Social media videos give a good example of why your company is special.
10. 5 Reasons Your Business Should Sponsor an Event
Placing your brand name amongst other reputable businesses creates an image of respect in the community and increases customer trust. You will offer funds, and in return receive the benefits of event marketing - exposure and recognition.
Return on Investment
The greatest benefit of a sponsorship event is the list of leads that you leave it with. In addition to that, there is an opportunity to increase your sales. Use the resources offered, negotiate, and watch your profit grow.
Business Relationships
Sponsorship events are the number one place to look for business allies.
Audience Insights
Learning other businesses' marketing strategies and receiving feedback will boost your understanding of how to improve your business.
Content Strategy
Events are a chance to promote your hashtags and cover larger audiences through social media exposure.
Sales Goals
Events with an active traffic will help you increase your sales.
11. 5 Reasons You Should Attend a Conference in Your Field
Attending a meeting or conference will increase your return on investment, give you new insights into growing your business and gaining more allies.
Educational Opportunities
Conferences are the right thing if you want to learn more about the ways to increase the productivity of your business.
Networking with Peers
Have your business peer-reviewed to get inspired and see what needs to be fixed or improved.
Encounter New Vendors and Suppliers
Dedicate some time to finding out about the trends in your industry.
Position Yourself as an Expert
It's common knowledge that customers like to receive services from the best on the market. Conferences can help you create such a reputation.
Have Fun
Apart from endless workloads, business should bring some quality time. Combining work and social efforts will give you an advantage in the community.
12. Education Workshops
You can advertise your marketplace by promoting it as a solution for a complex problem at workshops. Education is a great marketing tool.
13. Follow up after Meetings
Once you've met your business associates, contact them - maybe they could use your product. If not, ask them if they know any people with more prospects that you could approach.
14. Give a Little to Get a Lot
You can give away a free sample of your product so that the customer could tell their friends about their experience with it. It could be a trial or a consultation, depending on your services.
15. Work Your Personal Network
A popular move in marketing is to turn your friends and associates into a marketing strategy and ask them for a referral. You can offer them a discount or a bonus in exchange for more customers.
16. Study Your Successful Competitors
Competition in the industry isn't always a disadvantage. Learn about your competitors' marketing strategies and adopt their tactics.
Find out Who Their Customers Are
You'll be campaigning on the same market, so why not learn what strategies work best for the clientele in this field for them?
17. Claim Your Place in Google My Business
Commerce groups usually have directories where you can list your contact information - getting that place in the search results will help you attract more customers.
18. Survey Customers
Think about your target market - survey your customer to find out how you can improve, what they want from your product and your representation on the market.
19. Affiliate Marketing
Affiliate networking is a useful marketing strategy for accessible service promotion.
20. Word of Mouth
Word of mouth is one of the most effective business marketing strategies. Your customer will communicate with their friends and acquaintances and spread the word about the business they're interested in. It can, however, work both ways and have a negative impact, so be honest and professional.
Summary
Offline marketing is as important when you need to attract sellers and buyers for your new marketplace as online promotion tools. Don't pick only one marketing strategy, use a range of tools. Combine them, conduct thorough analytics and get your name out there. Or contact our specialists.