Nowadays collaborative marketplaces are capturing a market due to convenient business model. With Doggywiff marketplace, providers offer their dog care services and clients obtain information and purchase proposals online. Perhaps, P2P solutions request close management of demand and supply growth from a marketplace owner. Step by step ensuring regular transaction experiences is important to build leads and brand to buzz marketing. Each exchange should guarantee customers' satisfaction.
For this purpose, Roobykon Software team provided Doggywiff with reasonable functions:
A collaborative marketplace should have a suitable sign-in workflow. Ideally, so that all user types are able to join a marketplace securely in a few clicks. Social authorization through Facebook, Twitter or another social media has become "the must" feature.
Next and not less important functionality is clear listings (goods or services, published on a marketplace). They should be editable, vendors can quickly add, remove or publish or cancel their listings, while customers get an opportunity to filter, search and review data, they are looking for.
Sometimes communication could be time wasting or unclear, so a booking calendar makes it easy to agree on day and time of service delivery.
Doggywiff consumers could easily select the service provider, checking the reviews. And after getting a service, they are able to share their experience, using Reviews and Rating system.
Integration with Stripe Connect provides a convenient payment workflow both for providers and customers.
Clement Crubleau, the Co-Founder of Doggywiff gave us insights on how to manage the pet service marketplace. And certainly shared thoughts about the cooperation with Roobykon Software team and the further steps.
- How did you come up with the idea of establishing your own marketplace for dog walking and supporting services?
I had to put twice my dog to a kennel as i was going on business trip. When I came back the dog was not feeling well. Talking with a lot of people around me, i realized i was not the only one in this situation. Because i couldn't ask my neighbor all the time, the idea came quite simply. I had a problem, and i need to create something that will solve my issue
- What benefits can you offer dog owners?
As a dog owner I had some issues and the marketplace would have to solve them
The Dog owner need someone near them. They don't have to travel anymore to bring the dog.
You can list from hundreds of Dog Sitter in your local area. Sometimes in the same street
No more cages, ever !
Having the opportunity to meet the person before.
You can create your own community of dog sitters.
You are sure, the dog is in safe hand and will enjoy the walk outside, without feeling the stress.

- We're guessing that perhaps you're dog owners yourselves. Do you think you'll make use of the platform you've created?
That's exactly the reason why I've created it, I'm the number one user of it, as a dog owner i understand the need and i would recommend it to anyone else
- How will you attract service providers to your platform? What will they get out of working through Doggywiff?
Because we are at the early stage of the development, we have to build a list of service providers from scratch. We are contacting dog-sitting professional from directory listings, facebook group, twitter, forums etc...Then we are pitching them in order for them to see the benefits of registering an opening listings.
- What's your roadmap for further development?
Once we start to have hundreds of listing from service providers and consistent bookings, the next step will be to create an application in order to give a better and smoother user experience.
- Are you going to focus purely on services, or might you consider adding an e-commerce element, such as the selling of pet products and supplies?
We are focusing mainly and purely on services and we don't have any plan for selling pet products and supplies. However in the future we get partnership and why not having them advertising us in their website and us advertising them in ours. But this is not in a near future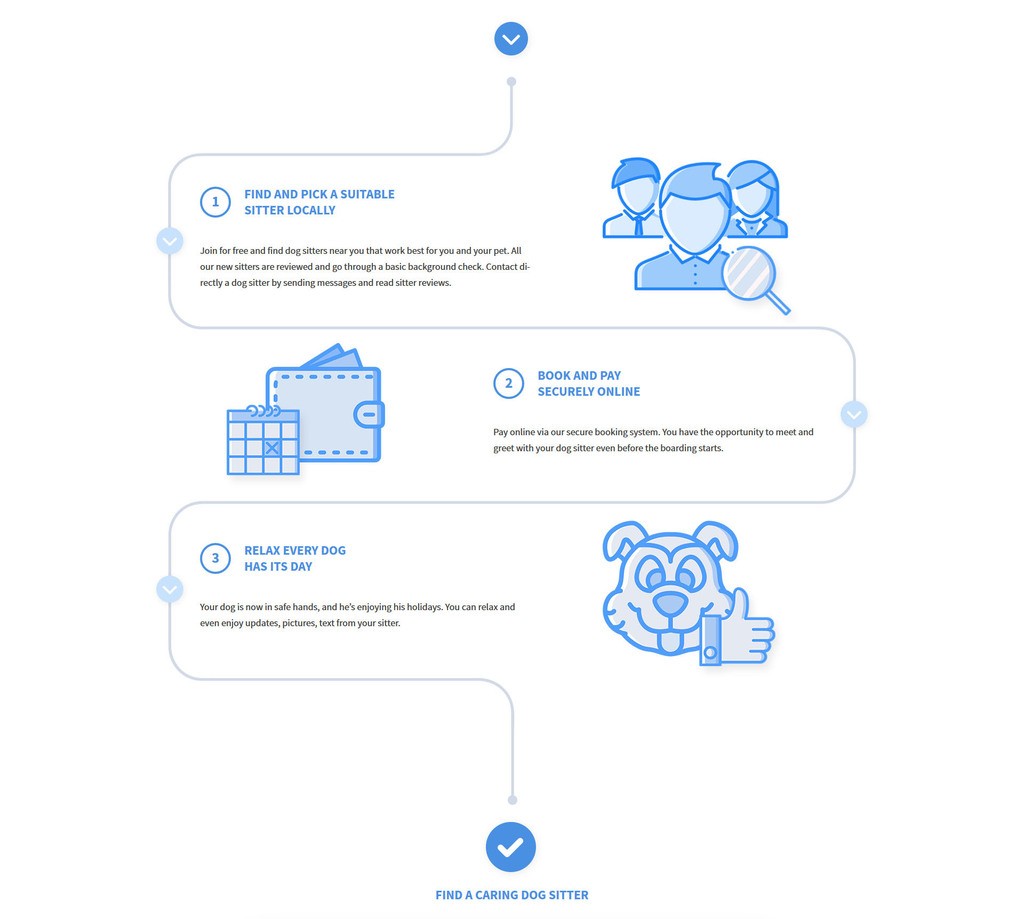 - How would you describe your target audience?
Our target audience is a really wide range. On the dog-sitter side, it can really be from young individuals or student to pre-retired people. The dog owners are more for professionals who are living in big cities and can't manage to sort out their work life and having a dog waiting at home. But overall, it's all about dog lovers.
- As well as dog walking, would you consider facilitating other services relating to different types of pets?
No we're focusing only on dogs as it's a pet that necessitate a lot of time and attention
- Do you work with local communities and clubs? Would you like to attract small and medium-sized businesses, such as grooming salons for instance, to act as providers on your platform, alongside individuals?
We don't work with local communities and club yet, and it's actually in our schedule. Working with small medium sized businesses could be an idea and this is something we could consider.
- Why did you choose the Roobykon Software team for your project?
We chose Roobykon after posting an add on Upwork. This was one of the first company contacting us, after several calls and checking your professional portfolio, we were entirely satisfied with the knowledge of the sharetribe environment, our issues, where we wanted to go and so on. Roobykon was naturally the number 1 choice
- Would you mind briefly describing your experiences with Roobykon Software? What have been the main pros and cons?
Working with Roobykon has been a real pleasure. The team was always responsive, on time in terms of schedule and the delivered product just look great. We are entirely satisfied
- Would you recommend us to your colleagues and partners?
We will 100% recommend people to work with you for this type of projects
And remember, in a short while, instead of buying apples in a nearest shop, you could go pick them off a tree in a virtual garden. And those enterprisers, who will give a cold shoulder to these innovations, will end up in the street.
If you would like to be on a ball, starting your own business as Clement Crubleau and his business partner, just drop us a line and we will discuss your idea and choose the right tech stack according to your requirements and needs.