As long as there have been internet connections fast and stable enough to support decent-quality video calls, people have been conducting business via Skype – from giving language and music lessons to consulting, mentoring, counselling, and even personal training.
But while Skype was one of the big pioneers of free online video calling, over the years, it's gained a whole load of competitors. It's still the dominent platform, but we often hear complaints that it's rather complacent – its dominence within the market gives little motivation to innovate.
But with other big players like Facebook integrating Skype-like functions into their increasingly expansive ecosystems, it has seemed overdue for some time now for Skype to bring us something new and distinctive.
Now, it seems, that is about to happen.
The Skype Professional Account desktop client, set to appear shortly in preview version in the US, promises to bring in a variety of new functionality specifically designed to smooth the workflow of people who use Skype to do business – and which will be of particular interest to small operators.
In a recent blog post, Skype acknowledged that "If you're a language or music teacher who works online – or a personal trainer, or a chess instructor, or any one of hundreds of other remote service providers – you're probably using a combination of different platforms to organize and give sessions across Skype."

These different platforms, the post went on to observe, might include "email to arrange a Skype call, calendar software to manage your Skype meeting schedule, and a third-party provider to coordinate and accept online payments."
The Skype Professional Account offers the prospect of being able to handle all of these things within Skype – bringing calendar, scheduling, and payment functionality into its desktop and mobile apps, and integrating them in various useful ways (for example, letting payment requests be sent along with bookings).
Importantly, using the Skype Professional Account won't mean that the person you're communicating with also has to – though it's not quite clear from what we've seen how all the functionality will work if one party is still using regular Skype.
It's promised that it will be straightforward to port over contacts from the regular Skype app to the new account.
A really interesting addition to all this is a promised new profile page, with fields for information like business offerings and hours, and what the company describe as "a dedicated website for your small business right in Skype" – including the ability to search for professionals according to the years of experience they have, their time zone, and the industries they've worked in.
If skillfully implemented, these could be the necessary features to make Skype a place to go to shop for services, rather than simply a medium via which they are delivered.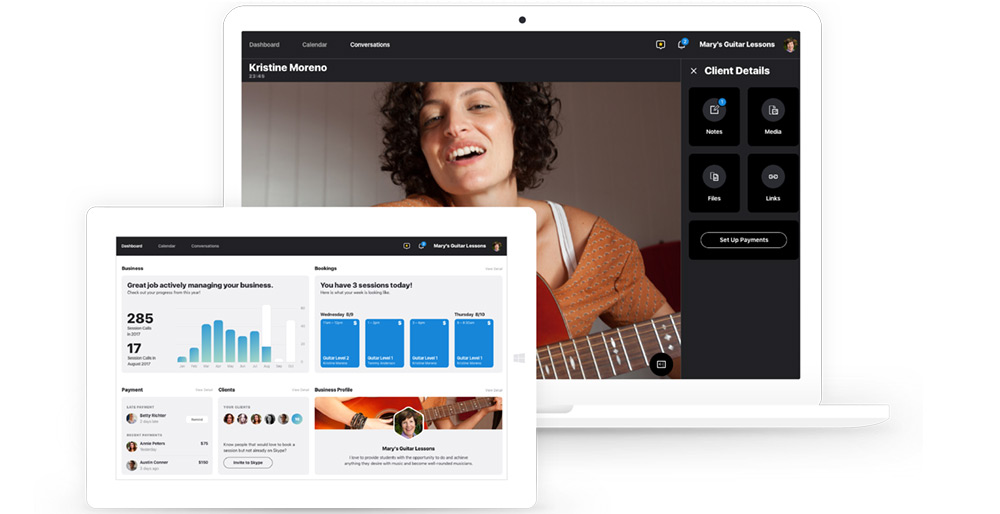 Screenshot mock-ups of the Skype Professional Account interface and profile page
For now, the preview version of the new account is available only to a limited number of users in the US – who must fill out a survey on the Skype Professional Account homepage for a chance to be involved.
We certainly think this is one to watch very closely.