Online marketplaces are hot. It would seem difficult to compete with such market giants as Airbnb, Etsy, and Fiverr. However, there is always someone who is willing to take the risk. After all, as they say, nothing ventured.
There are no easy ways to launch marketplace services and make them popular. Some people resort to an expensive advertising campaign, while others focus on a unique interface and SEO. We've prepared this material with the hope of revealing the secret of profitable brands, but by the end, we've realized this is a whole study, giving answers to all the burning questions:
Which approach works best, and how will it affect costs and margins?
Why do some marketplaces earn users' trust while others, alas, don't?
What problems arise on the way to building a marketplace?
The following chapters of this tutorial will include reviews of the most popular marketplace platform examples created with Sharetribe Flex that gather thousands of users worldwide.
Choose how you build your marketplace
Building a multivendor platform based on existing marketplace software or creating it from scratch, you must solve the chicken and egg problem - bring something unusual to the market or attract customers. That's why coming up with an idea and turning it into a website is not enough - it's worth digging deeper. First, think about why you want a marketplace. Then, what exactly are you planning to build? How to make an effective MVP?
We have seen many cases where entrepreneurs invested all their initial assets into development and then realized that no one needed their product. So why can't technologically sound platforms attract the users' attention? We call them "desert sites" - they don't aim to solve the customer's pain points. That's why it's worth starting with the concept.
Talented people create most great startups. However, if you don't have an experienced team or a high budget but still want to fly, there are ways to get ahead. First, consider creating a marketplace based on the Sharetribe Flex solution.
Flex is a headless, API-based marketplace framework with a customizable user interface and the possibility to add third-party integrations. The word "headless" may confuse you. We usually explain it to our customers as an approach where the graphical part (or front-end) is decoupled from the API (back-end). In a nutshell, it uses out-of-the-box functionality. For example, if you need the default Stripe payment system, the framework also supplies the option of customized transaction flows. This will considerably speed up the release time and allow the team to concentrate on more important things. In this case, the development cost will depend on the complexity of the new functionality implementation. In general, if you are short on time and budget, we recommend running a quick solution based on Sharetribe Go.
Top examples of the best sites created with Sharetribe Flex
So that Sharetribe Flex doesn't seem like something ghostly and unattainable to you, the Roobykon team has created a guide to the best examples of marketplaces worldwide. Let's briefly discuss where these brands started, how their functionality differs from their niche competitors, and how they managed to become what they are today.
Vehicle sharing marketplaces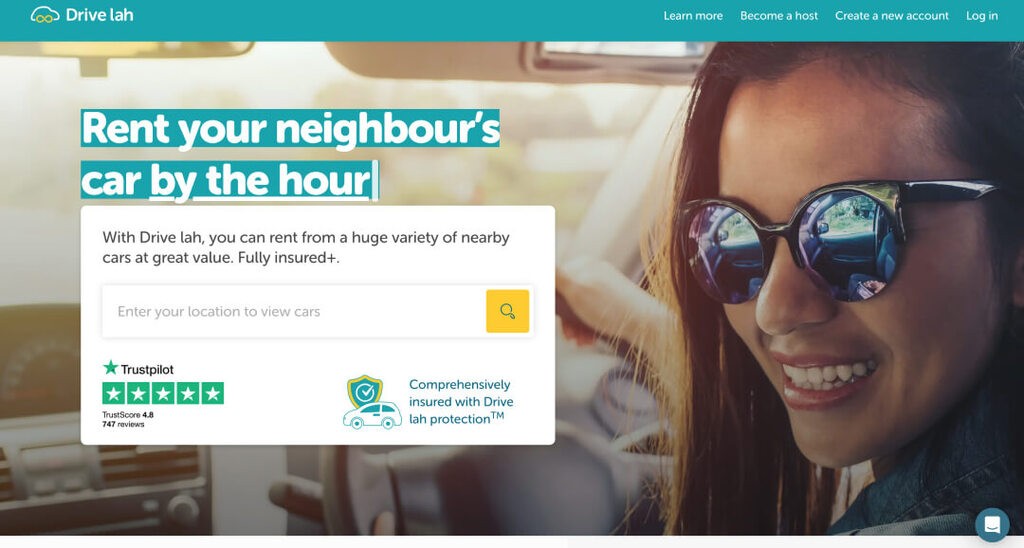 Drive lah is an example of a growing marketplace in the car-sharing niche that raised $11.88bn in 2022. Its purpose is to make renting a car in Singapore and Australia easy, safe, and cheap. The company focuses mainly on sustainability, believing that sharing cars will reduce greenhouse gas emissions. When asked what makes Drive lah different, co-founder Dirk-Jan said that its collaborative business model is the solution to improving mobility for more people while reducing the number of cars on the road.
Drive lah started in 2019, they were growing fast, and two years later, the number of registered users reached 150 thousand. In addition, the company acquired Smove, a competing asset and fleet-based car sharing in Singapore.
Another feature of the platform is the innovative Drive lah Go technology. It provides access for the cars to approved guests directly via their phones instead of physically handing over the keys. This makes sharing much easier and saves a lot of time for hosts and tenants.
Quick registration confirming identity allows without burdening the user to identify the vehicle, its owner, and its location. In addition, the trip will be comprehensively insured for the host's and guest's peace of mind. According to regular customers of Drive lah, one of the things they appreciate is the easy-to-use platform that allows them to browse and select from a wide range of cars that suit their needs. The number of vehicles on the marketplace is constantly increasing, and as of May 2023, there were 300+ cars available for hourly and daily rent. The flexibility of rental terms is also a great advantage of the site compared to competitors.
Many users note the accessible support service, which is essential, especially when there are any questions. Their quick response and willingness to help make the rental process more enjoyable.
By the way, the rental price offered by suppliers is 30-40% lower than the market price. The fact is that most cars are idle 95% of the time while not making a profit. Drive lah also shared the ability to earn additional monthly income if the one chooses its stickers to attract new visitors to the platform. You can invite friends through a referral program and get a bonus of $100. They will receive $25 when joining. A user who has just registered and decided to share, sell or rent their car will also get a cash reward.
The platform raised $3.2 million in a pre-series A round led by KFC Ventures. Investments VC and Accelerating Asia are among the investors that participated in the round, in addition to business angels. They supported Drive lah because they believed in the founders' ability to bring such a powerful project to life, thereby changing society and the climate for the better. The future looks exciting for the company - it sees the scale in the mobility market in the Asia Pacific.
The site has about 107,000 visits per month. Most of the visitors go to the site via cell phones.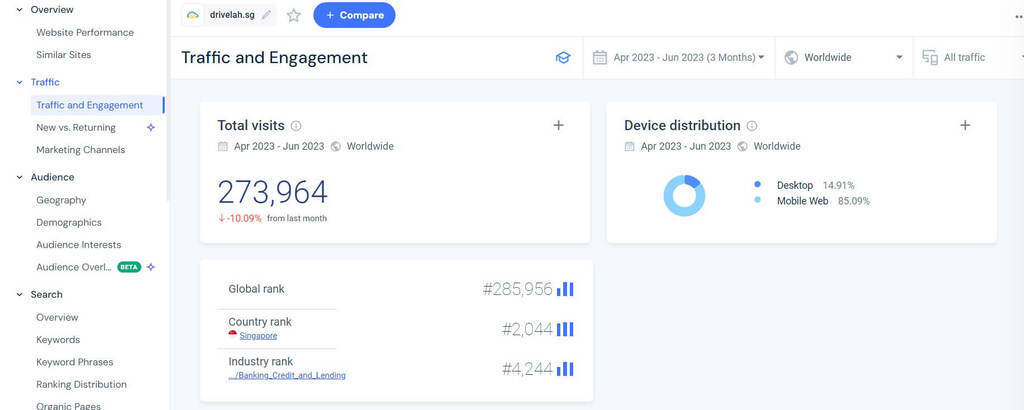 About 60% of them are Singapore residents, and the other part is from the neighboring areas. They come to the site by direct link, from SERP, and from advertising.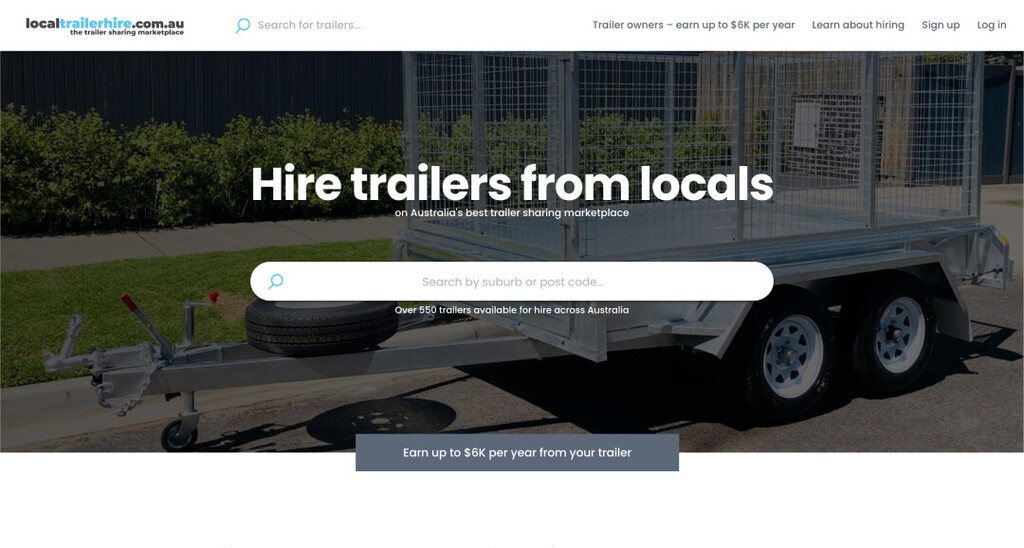 Localtrailerhire offers users low-cost trailer-sharing options for residents only. The service operates in Australia.
The localtrailerhire.com.au website lets you quickly and cheaply rent a trailer. It provides favorable conditions not only for owners and renters but also for referrals. For example, a user can get a referral bonus of $100.
There are about 500+ options of all kinds of trailers placed locally. The site's convenience lies in its simplicity - a search by place name or postcode, a calendar with the possibility of hourly and daily booking, and a simple order form allow users to quickly jump into purchasing funnel.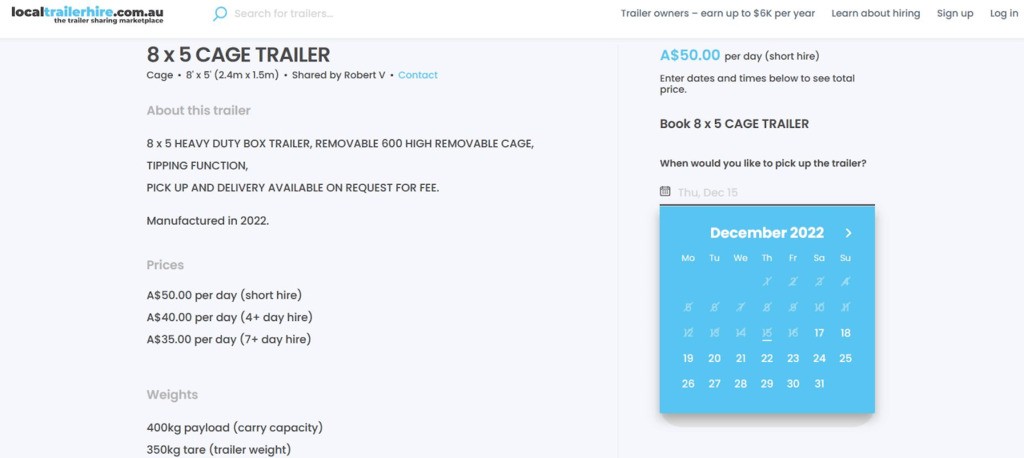 Usually, such marketplaces require good data analytics to determine the functionality needed for expansion. So we are inclined to think this site is already developing something new for its users. Since it operates locally, trailer owners could be offered the option of property insurance and maintenance. For example, when renting, the user can pay an additional amount for the insurance policy, which guarantees bilateral security of the transaction. Or, the trailer cleaning after use can be entrusted to a third party - a car wash, which will receive a percentage of the rental and thus attract more traffic to the site. The website also pays much attention to honest feedback - every user's opinion is considered and highlighted on Facebook.
The platform has about 12,500 visits per month, positively affecting supply and demand growth. Note that the site has an adaptive version for mobile devices, due to which it gets about 90% of visitors.
Moreover, the marketing strategy is evenly divided between organic and direct traffic - a smaller portion of conversions the site receives through paid search.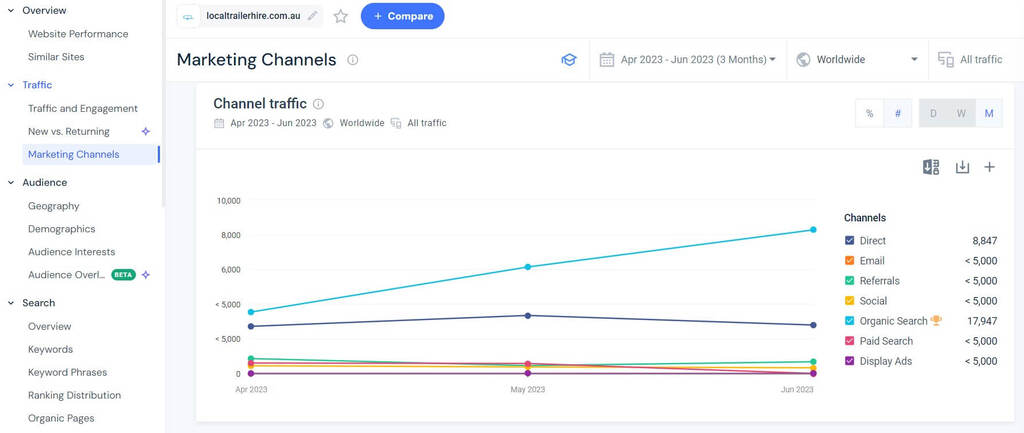 Travel marketplaces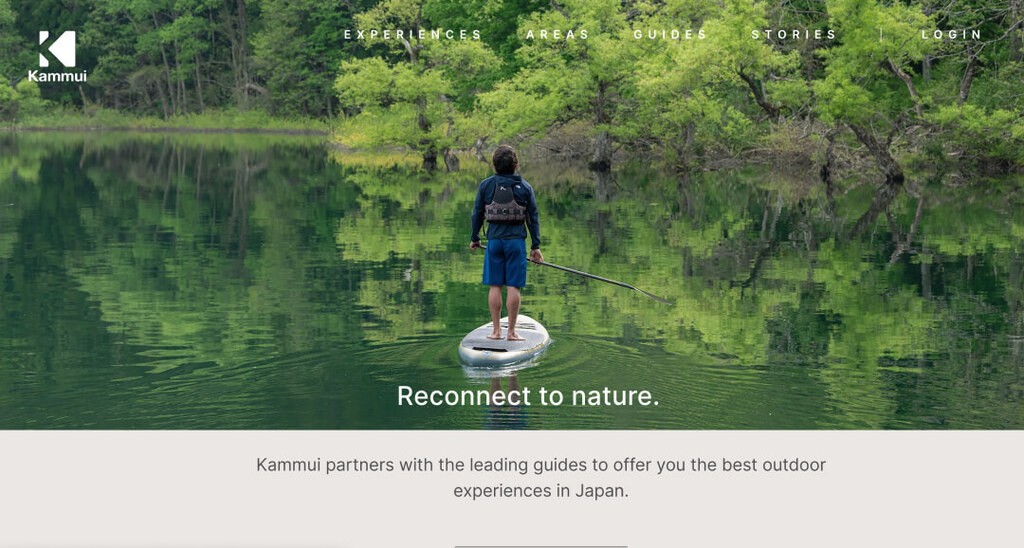 International tourist arrivals almost tripled from January to July 2022 (+172%) compared to the same period in 2021. This recovery from the pandemic "coma" has shown new business opportunities - so the website kammui.com was created. As a result, everyone can choose the best place to stay. And given that the average Japanese works more than 14 hours daily, they prefer to travel during rare vacations. This goal has become the foundation of the platform - it focuses on creating a versatile experience in a short time, as it includes a range of activities for all tastes:
Meditations and yoga;
Fishing;
Hiking and trekking;
Rock climbing;
Mountain biking;
Kayaking and canoeing;
Surfing and diving;
Ski and snowboarding;
Farming and more.
Each category has a certain number of offerings - listings here don't abound in possibilities; instead, stick to a specific price category and location.
The platform also considers a certain accuracy of the Japanese - they usually prepare for a vacation and adhere to the rule "quality has a price." So the choice depends significantly on the people they will interact with - Kammui has a separate tab with terrain guides and trainers. By going to each person's profile, you can see their photo, age, a short questionnaire, qualifications, and experience. The functionality also includes links to their social networks.

The lovely design and the visually clear interface have made this platform quite popular among the Japanese. The site collects about 12,500 unique monthly visitors and converts them into potential leads. Statistically, half of them make a profit for site owners. Most of the visitors go to the site via mobile devices.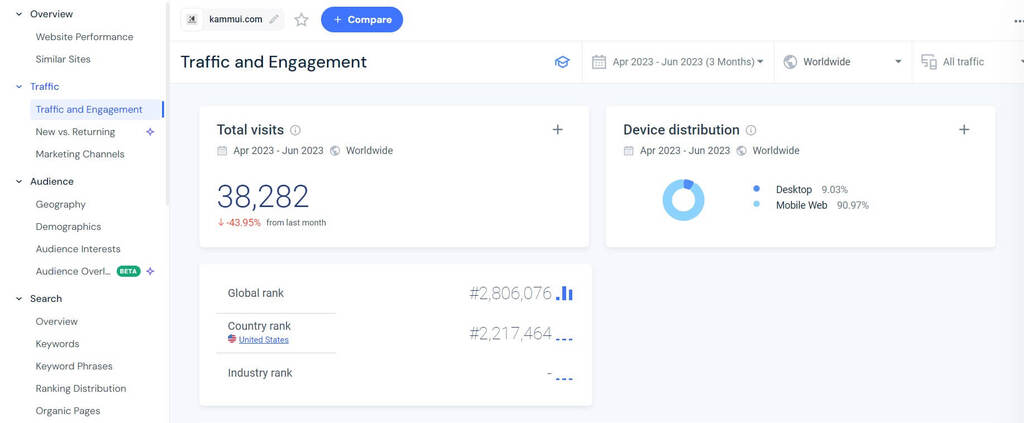 The marketing of the platform is focused on direct traffic and SERP.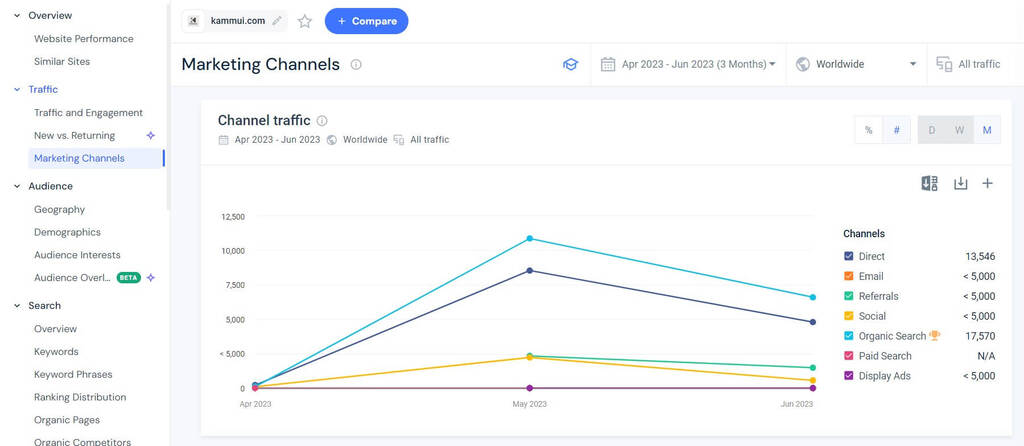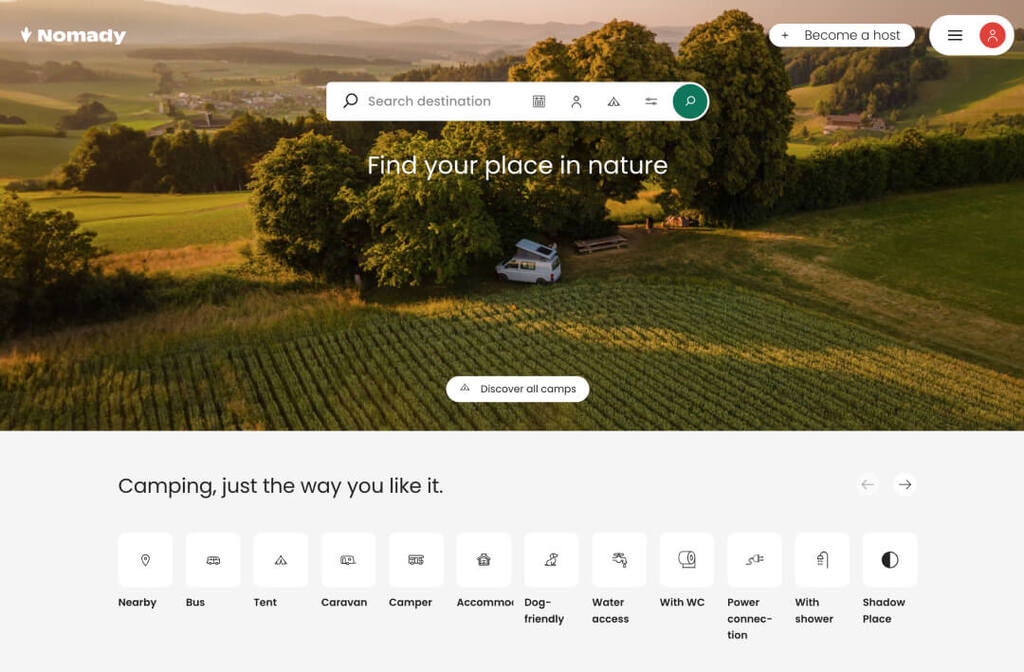 This marketplace for campsites has become popular with tourists from Switzerland. Its peculiarity lies in the local offer - usually, for those who want to explore their country in a trailer, it is difficult to find places close to nature with a toilet, water, and power supply.
The site allows you to find and earn - its principle is to place listings for sharing the land. Campers, in turn, choose from a list of 650+ places. In this way, thriving local tourism becomes profitable.
The marketplace is built using FTW daily with additional functionality for selecting locations. In addition, the offer's description contains a map and an infographic. You can learn more about the person willing to shelter a camper on the site by visiting the profile. In addition, to understand how reliable the landlord is, the platform provides a five-star rating scale and the ability to leave honest reviews. This also largely determines the choice in addition to the optimal price per night.
By the way, the platform provides the ability to search by date - for example, by selecting a certain period, you can find a list of free hosts. Such a feature makes it easier to interact with the site, negating the moment of frustration at the sight of inaccessible accommodation or a place for camping.
Such a convenient website has earned the attention of about 45,000 visitors per month. The fact that they visit it from mobile devices shows that the brand has tried to create a better adaptive experience with different devices.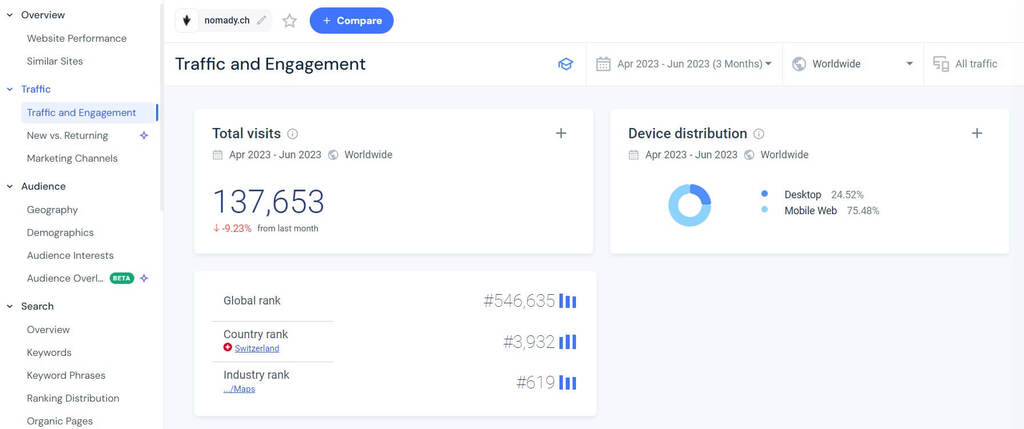 The nomady.ch receives traffic from search engines and direct traffic and stays afloat through referrals and advertising. This means its popularity among the local population and conversion growth using the brand name in the search box.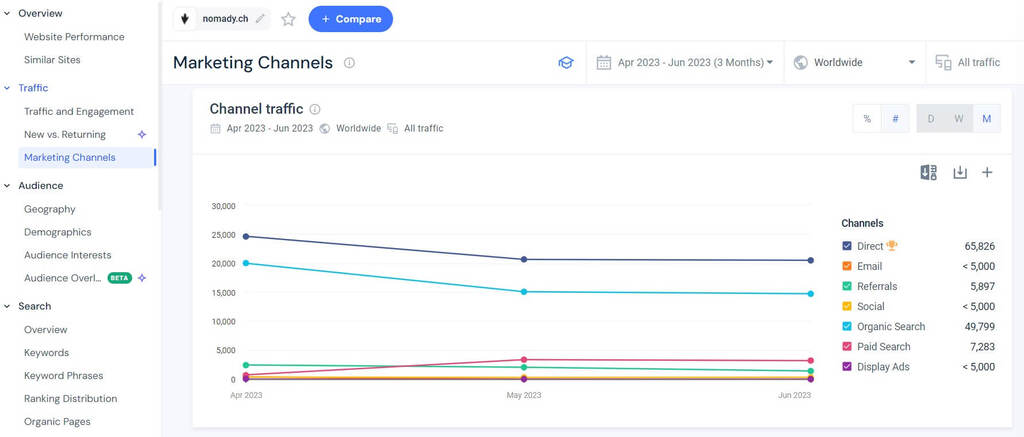 It is possible through constant participation in all media projects - from TV shows to media articles. Please note that you can download a PDF file of any publication on the site.
The site also supports affiliate marketing by creating collaborations with well-known partners. For example, the cooperation with myswitzerland.com provides the platform with referral links while improving the customer experience by renting accouterments and booking train tickets en route to the final destination.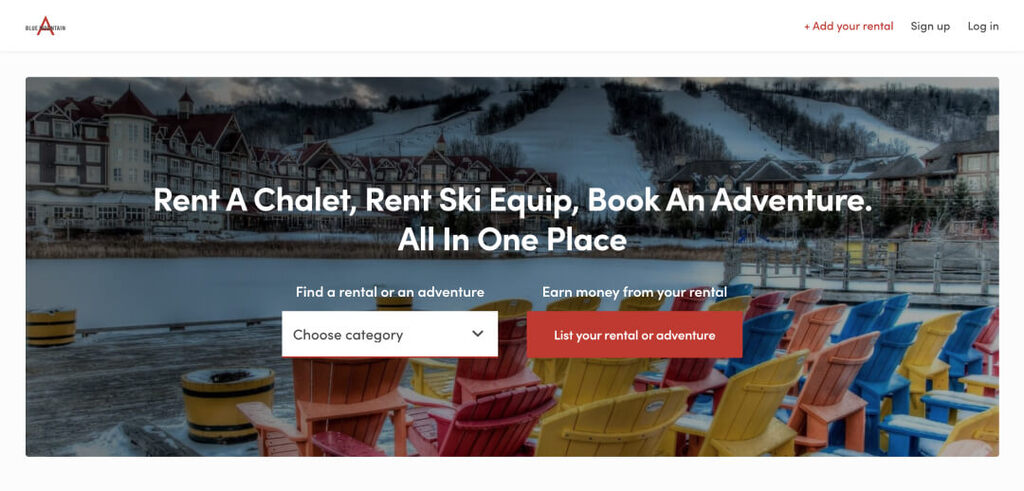 This is another example of the best Sharetribe marketplaces, allowing travelers to find accommodations, equipment, and adventures in Ontario, Canada. The brand name is also a keyword, so the site occupies one of the first positions important to attract leads among the SERP results.
To create a positive travel experience, three categories of listings were created with a unique interaction with each of them. The narrow focus of the listings makes it easy to find the right option and then book it. Furthermore, since the user's choice depends not only on the price but also on the conditions offered, each host puts the best photos of the most favorable angles on the offer's cover picture.
The platform uses FTW daily for the implementation of all the categories. In this case, the client enters the preferred number of people when booking housing. When choosing equipment (e.g., snowboards), the criterion of destination is mandatory - for a beginner, professional, or child. The user must enter and book the item quantity like the last category. The approaches for finding and reserving adventures are similar. Both let you get to know the host and connect with them.
Such a custom scenario with 3-4 steps to the end goal (booking) goes a long way toward removing all the bottlenecks and improving the customer experience.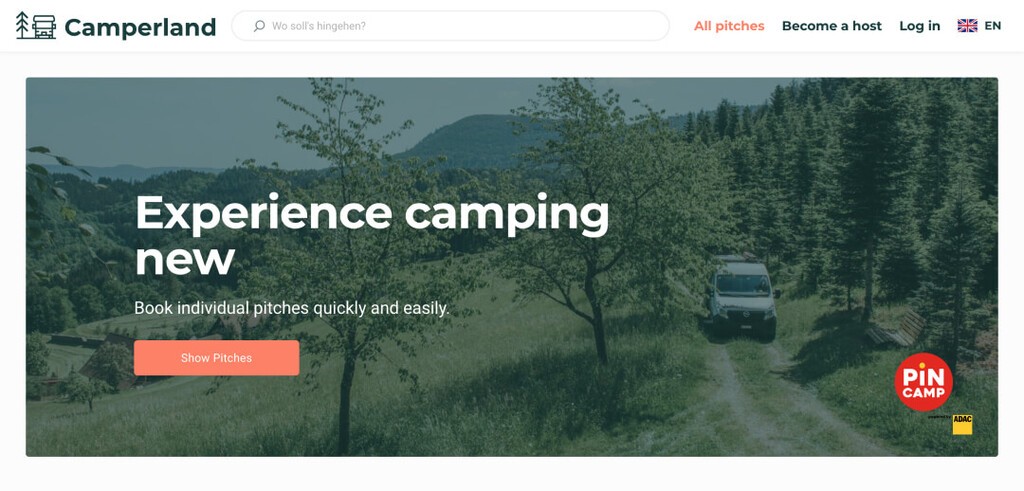 Camperland is another example of a marketplace providing services on sharing parking spaces for mobile homes and campers. Here you can find private pitches in the most beautiful regions of Europe. The site emphasizes selection among 1000+ options for natural habitats, farms, and wineries. About half of them can meet basic needs and have toilets, showers, and electricity. In general, you can assess the features of each place by looking at the infographic, which allows you to consider all the amenities quickly.
About 88% of hosts who have posted listings on Camperland offer friendly cancellation terms. For example, it is possible withdrawing an order three days before arrival. The marketplace also provides special privileges for large families, groups of travelers, and pet-friendly accommodations.
Camperland provides low-contact and reliable communication between owner and tenant. They may not exchange personal data in the booking form, but parties can learn more about each other by opening a user profile.
The marketplace also provides daily reservations with pre-set limits. They will allow the hosts to earn money and not lose it to guests. While making a deal, both parties can communicate in chat. The site supports two languages - English and German - significantly expanding the target audience segment from Germany. The customer journey here is as simple as possible:
Hosts place listings.
Guests check the availability of pitches in the calendar.
Guests make a reservation for a specific period.
Guests make a payment after the deal is completed.
The brand has turned to secure transactions since such niches are rife with scammers.
All requests for reservations are sent by e-mail and can be duplicated by SMS. However, they expire in 48 hours, so landlords should hurry to confirm the order. After all, until the booked time passes, the selected timeslot remains inactive for others.
One of the features of Camperland is honest feedback from visitors. Almost every offer abounds with visitors' stories which help choose those in doubt.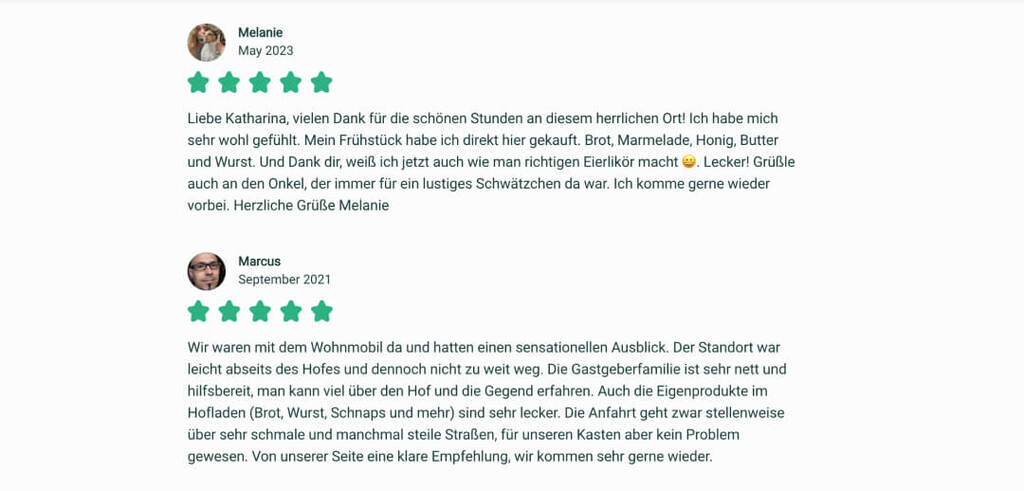 Since the marketplace positions itself as an analog of AirBnB but for pitches, it carefully monitors the legal basis for rentals. All landlord offers are reviewed for legitimacy depending on region or country. For example, in Germany, rentals are usually regulated by the camping ordinance of the federal state. The legal situation in Switzerland varies from canton to canton and depends on the municipality concerned. The blog is usually the first place where users learn about such things. It's been supporting the camping boom topic since early 2020 - the increase in camping car registrations has also impacted the site. It has been visited by even more people who want to find colorful, relaxing places. Demand gave birth to supply, and the marketplace has already attracted about 27,000 active monthly visitors. Most of them visit the site from their mobile devices.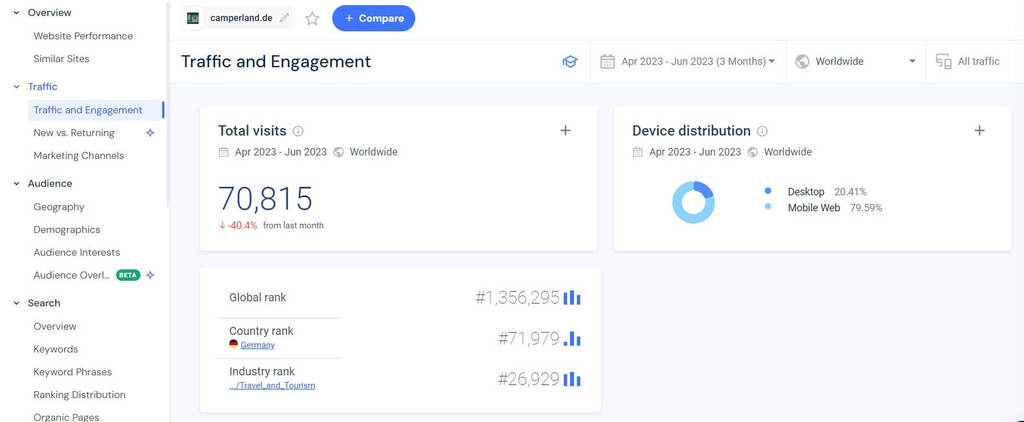 More than 90% of them are residents of Germany or Switzerland.

They mostly come to the site from SERP, by direct link, and from social networks.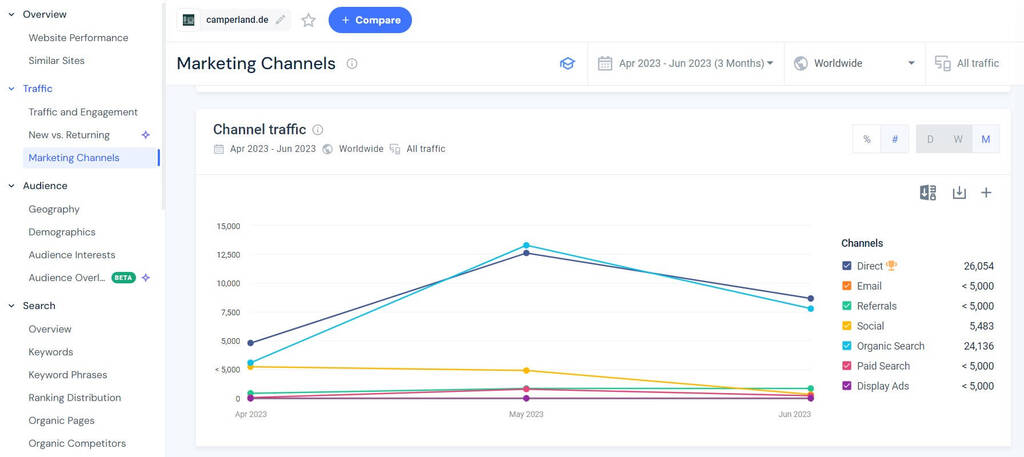 Roobykon says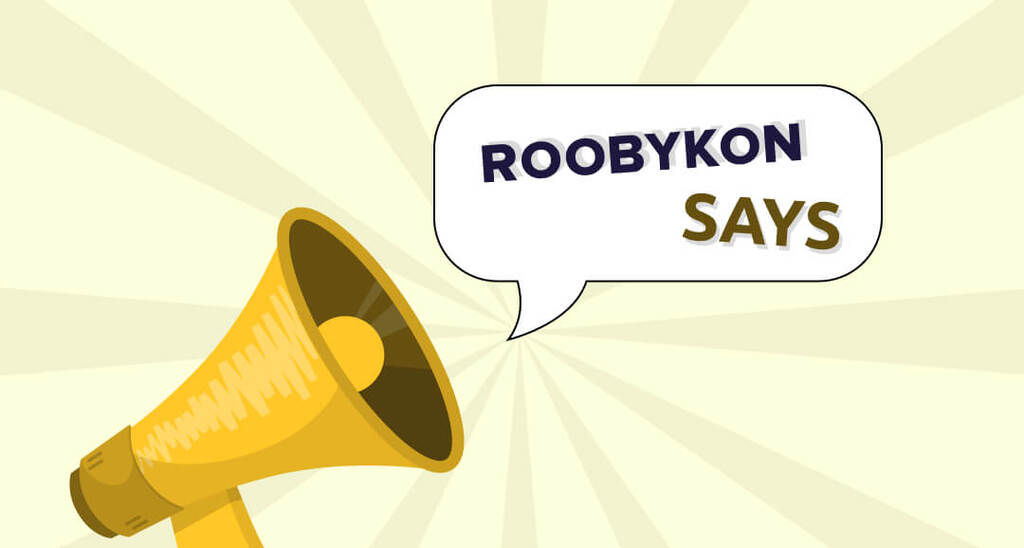 Many of our customers sometimes wonder why we focus on Sharetribe Flex development. It allows you to expand functionality and add non-standard integrations, which will be the hallmark of the future market.
Has anyone used Sharetribe? Sure, many popular marketplaces focused on different models of interaction with customers choose this provider. It is reliable and safe. Marketplaces made on this framework will be a long-lived and profitable investment if you choose the right direction and performers.
Conclusion
In this guide, we looked at Sharetribe site examples that differ in metrics, niches, number of users, and degree of scalability. Some of them have some flaws, but knowing about them is learning, so this article will be a valuable addition to your experience building a new system.
Your comments are welcome!