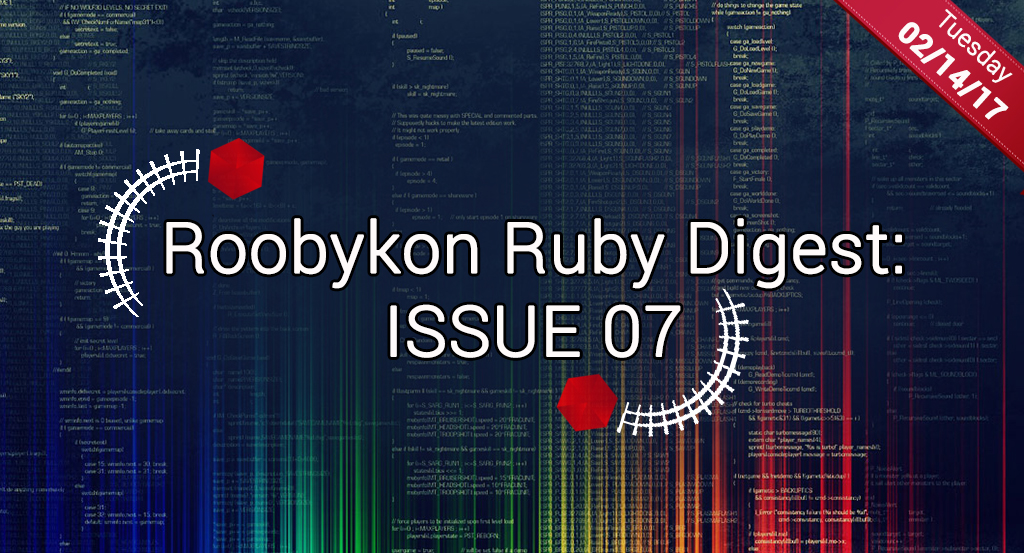 Guys, it's time to read the latest Roobykon Ruby issue! The week was quite eventful and Roobykon team easily picked cherries out of the numerous freshest tutorials, life hacks and tips in Ruby and Rails development world. We've listed them below and truly hope you might find something interesting for yourself as well!

Completely unexpected gold mine suddenly was found! Do not miss this impressive list of resources, libraries, information sources, documented and maintained tools for text processing in Ruby and NLP development!

A brief but reasonable explanation of all the merits of ActiveRecord Import gem usage on a simple and clear example. It's not a cure-all pill but if you have tons of work to do the ActiveRecord Import will definitely save some of your precious time!

It's unfortunate that the myths and misinformation persist and often stop developers from trying Docker. In this specific article Derick Bailey, enthusiastic entrepreneur and developer, trying to dispel at least ten of them, so you can take all the advantages from this open-source project.
Interactive Ruby Shell, obviously has some limitations but there's some way out. 'irbtools' makes using it easier and more fun by improving IRB console with colored output and lots of helpful methods. This customization hack definitely deserves to be considered!

Meet up the Percona Migrator, an ActiveRecord adapter to run online MySQL schema migrations in Rails. From now on, the Automatic migration abort when the server load is too high or the replica lag is too large and dynamically adjusted chunk size so data-copy queries don't take too long!

Now, this article would be quite helpful for the beginners in Ruby and Rails! It's all about RuboCop a popular gem for static code analysis of the Ruby codebase, specifically about its integration via Sublime, Atom, Visual Studio Code, Vim & RubyMine.

A curious investigation made by Starr Horne an experienced Rubyist. He ran the test suites for jquery-ujs 1.2 and the latest rails-ujs on Explorer 8-11 and made the insightful conclusions. Btw, Chrome was used as a control. All the results are under the link!