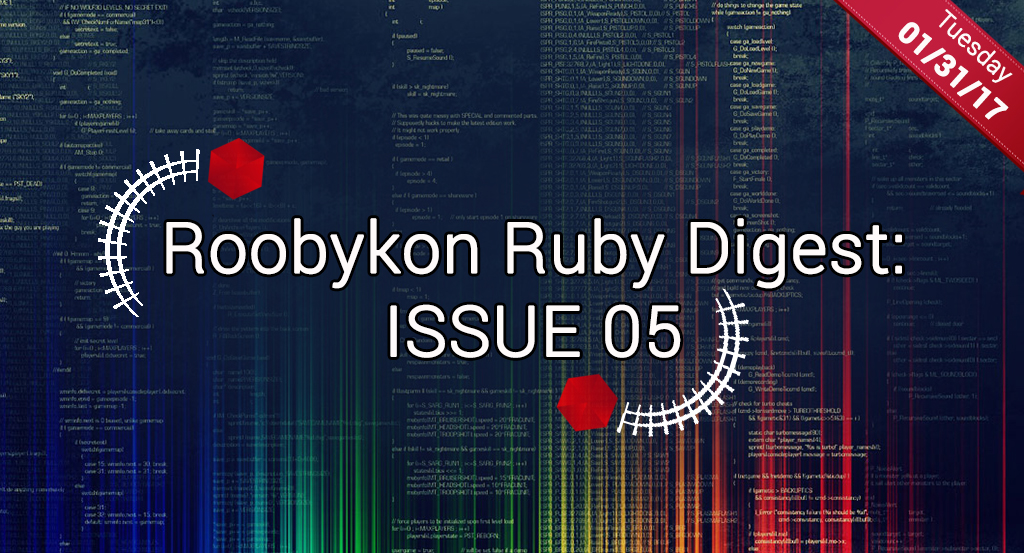 Another fruitful week has passed for Roobykon Software team. And despite the extreme workload, we have admired a bunch of quite insightful ideas in Ruby and Rails development. Benchmarking, JWT authentication, microservices and much more you'll find in the latest issue of Roobykon Ruby Digest! Do not miss it and let's admire together!

You just have to check out this curious test held by Tobias Pfeiffer! For about year and a half ago he already published an article benchmarking various ruby implementations but much has happened since that time. And today we can notice how the contestants have improved.

There's no doubt that microservices are in the mainstream these days and everyone is moving away from monolithic architectures to create more maintainable services. In this short article, an Adwerx team is sharing their experience of making their first microservice, the Marketing Automation app named Meteor.

After the discussion of JWT security tips, the author shares two Ruby libraries he made in order to implement these tips. One of them is warden-jwt_auth, which can be used in any Rack application with Warden as authentication library. The second one is devise-jwt, which automatically configures for the device.

Here we've got a simply great guide of certain tools and gears to make an isolated and manageable development environments via Docker containers. An absolutely useful piece of information in terms of how trivial this task could be.

An extended review of FriendlyId - the "Swiss Army bulldozer" of slugging and permalink plugins for ActiveRecord. It allows you to have unique slugs generated automatically, plus the pretty URLs with words in them, rather than the ids.

The creative view of how we can implement a single sign-on for multiple applications. Be aware, this post is more about the concept than the code, but once you get an idea, bet you'll at least think to integrate it yourself. All the details are under the link!

If you're struggling to solve the problem with a slow SQL query, then this article is definitely for you! Joe Kurleto, an open minded software engineer, will tell you about an explain analyze tool and few more things to keep in mind while crafting SQL queries.